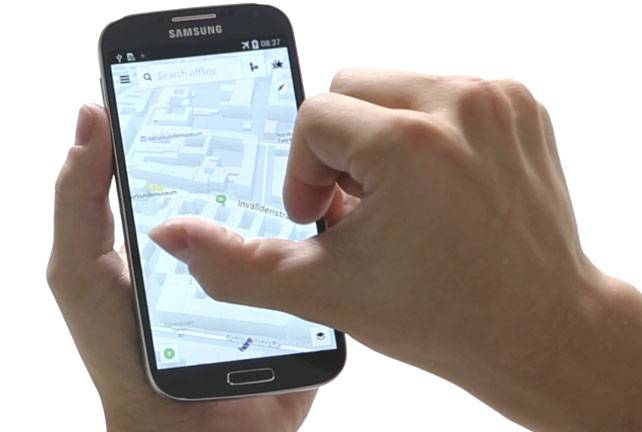 It's now, uhm, here! We're talking about a great alternative to Google Maps, but only if you're on Nokia X and now Samsung Galaxy devices. It's called HERE and it seems to be a great-looking map app, although for now, access to it is still pretty limited. But if you own any of those devices and would like to have another app to look for places or explore the area around you, then this one looks like a good option for you.
Once you've downloaded the app from the Samsung Galaxy Apps store, you have three options: sign in with your existing HERE account (if you've previously had a Nokia X device and enjoyed this app already), create a new account or don't register at all and start using it. The advantage with signing in or creating an account is that you can save several maps for offline use and it will make even your online use of the app faster. Where you are now is shown on the app with a green dot with an arrow. If you see a big green circle around you, then it means you need to turn on your GPS because it can only see you through your mobile network or your WiFi connection, which isn't always accurate.
You can now explore the area around you, just like you would use any digital map on your phone. One finger means panning, pinch for zooming in and out, two-finger twist will rotate the map, two-finger swiping will tilt the map to different angles, etc. As we mentioned earlier, you can download the map so you can use it even when you don't have Internet connection. You can also search for the place you need to go to or explore the category lists (shopping, hotels, etc) if you have no idea what place you should be going to. It will then give you options, whether you're driving, taking public transportation or walking towards your destination.
The Android version is still in beta version so expect a few kinks and bugs for now. But if you have been annoyed with Google Maps as of late and you have a Samsung Galaxy device running on Android 4.1 and higher, with a 1GB of RAM, then head on over to the Galaxy Apps Store to download the HERE app. There have been several comments though that it can only work with Galaxy S3, S4, S5 and Note 3 and Note 4. But the folks from HERE said that it means it is still propagating its way to the Apps Store for other Galaxy devices and that you need to update the Galaxy Apps Store for you to find it.
SOURCE: HERE