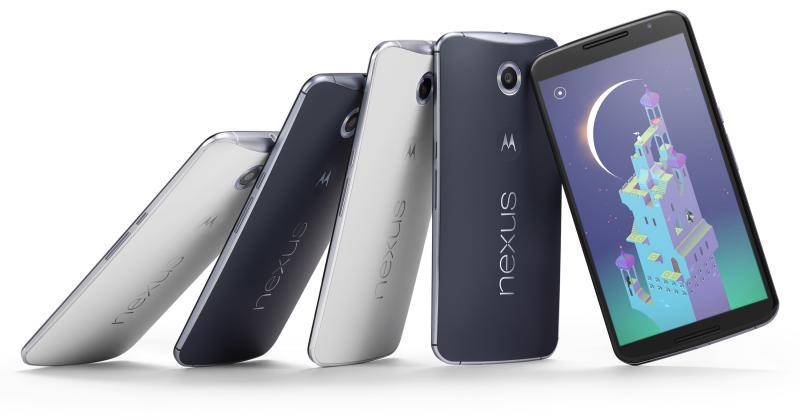 Google has indeed come out with the next Nexus smartphone along with a new tablet today. As has been repeatedly leaked and tipped, the Nexus 6 bears Motorola's mark, making it the first Nexus device to come from the manufacturer's portfolio. But the Nexus 6 is also a first for Google, its first smartphone to completely cross the line from a handy size to one that trades in comfort for more room to display things.
With the Nexus 6, Google has reaffirmed that the ridiculed phablet category does have a place in our mobile world, something that Apple, too, has just recently acknowledged with the iPhone 6 Plus. Not exactly 6 inches, the display of the device spans 5.96 inches but also boasts of QHD 2560×1440 resolutions. As with Motorola's high end, that screen is of AMOLED origins, though not the Super AMOLED that Samsung likes to flaunt. In short, the Nexus 6 is, for all intents and purposes, a bigger Moto X in design and in spirit. Don't take our word for it though. Just flip the phone over and behold the same distinctive design of the new Moto X, complete with a curved back and a dual LED flash ring.
But let's go inside first, where you will see the 2.7 GHz quad-core Qualcomm Snapdragon 805 that powers this tablet. The RAM size is not given but it will most likely be 2 GB, though you won't hear us complaining if it actually maxes out at 3 GB instead. Internal storage will come in choices of 32 or 64 GB, very spacious rooms right from the get go. Mobile photographers will also fall in love with the Nexus 6, as it has a 13 megapixel camera with a f/2.0 aperture, the much-desired Optical Image Stabilization, the aforementioned dual LED flash ring, and 4K video recording. The front camera is less impressive but a decent 2 megapixel shooter nonetheless. One other selling point of the Nexus 6 is its battery. Already quite large at 3,220 mAh, it is supported by the OEM's new Turbo Charge feature, giving users up to 6 hours of use for just 15 minutes worth of charging. That is definitely a good thing considering the battery lasts only 24 hours on average. The device is also water resistant, not waterproof, though the exact rating has not been mentioned yet.
On the software side, you get the latest Android 5.0 Lollipop to go with it. The sweetest and fastest Android to date, this version offers performance boosts and optimizations across the board. Sadly, the Nexus 6 won't be able to take advantage of Android 5.0's 64-bit readiness. Lollipop is likely also Google's prettiest release with Material Design in tow. Unfortunately, fans of Motorola's exclusive software features such as Assist, Voice, and Actions will be left a bit wanting here.
Unlike the Nexus 9, the Nexus 6 seems to be available only in the two traditional colors of black and white. Pre-orders are set to start much later on October 29 and the unlocked phablet will carry a price tag of $649 on Google Play Store.
• Display: 5.96-inch QHD 2560×1440 16:9 ratio
• Processor: Quad-core Qualcomm Snapdragon 805 @ 2.7 GHz
• RAM: Unknown
• Storage: 32 or 64 GB
• Camera: 13 MP f/2.0 OIS dual LED flash / 2 MP
• Audio: Dual front-facing speakers
• Battery: 3,220 mAh with Turbo Charging, Qi Wireless Charging
• Connectivity: Quad-band GSM, CDMA, WCDMA, LTE, WiFi 802.11ac 2×2 (MiMO), NFC, Bluetooth, Micros USB 2.0
• Sensors: GPS, Ambient, Gyro, Accelerometer, Magnetometer, Barometer
• Water resistant: Yes, rating unknown
https://www.youtube.com/watch?v=wk-PY2dBKaA
VIA: SlashGear
SOURCE: Nexus 6