So today is Christmas for many of us (or something similar) and for all of you that were lucky enough to tear open the wrapping paper on a brand new ASUS Transformer Prime or Galaxy Tab and are wondering what apps or games to try for that new Android tablet — we have you covered. Below you'll find a few awesome choices for that 7 or 10 inches of screen real estate.
Unlike our list of top smartphone apps today we'll just feature 5 awesome Android tablet apps — or six. Below are a few of the personal favorites from Android Community that we've featured in the past because they are just that great. We'll start with my all time favorite for showing off graphics.
Riptide GP
If you'd like to show off the amazing graphics or games available for that new tablet be sure and get Riptide GP. This is the premiere racing game for Android — only its all on water. This jet-ski style high paced racing game will keep you on the edge of your seat, and the edge of your tablet screen. Controlling jet ski's by cranking that tablet left and right like a steering wheel sounds fun right? With some of the best graphics on a mobile device this will keep you entertained with hours of gameplay. The water effects in particular are highly impressive.
[vms 767cffec0e513ae886df]
Dolphin Browser for Pad
While still currently at a beta level Dolphin Browser is the best 3rd party browser for Android hands-down (if you ask me). The stock tablet browser is quite excellent but Dolphin's access to gestures, ad-ons and more give the user even more power with their tablet.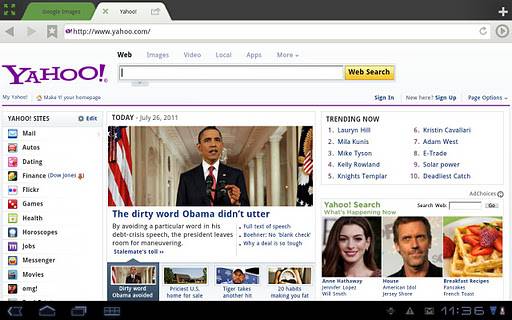 SHADOWGUN
Now this is another game that might cost a few bucks but hopefully you received an extra gift card or two for the holidays. Shadowgun brings Gears of War to Android tablets and is quite impressive. For anyone that loves shooter games this third person shooter has over 8 hours of gameplay and is more of a full featured game than most. With a regular version, THD for Tegra 2 tablets, and now even support for the NVIDIA Tegra 3 this game by far has some of the most impressive graphics I've seen on a mobile device to date.
[vms 0a5d75adff48a9bfc1dd]
SwiftKey X Tablet
With Android we have the option for 3rd party keyboard alternatives and they give you the option to customize your entire experience. If the stock keyboard doesn't sit right with you I'd recommend SwiftKey X Tablet. They offer a complete package with themes, customization, and even an option to learn from the users Facebook, Gmail, or Twitter habits to learn your style. Then their tier-one prediction engine will even save you precious time and keystrokes. SwiftKey X for Tablets also has a split key "thumb" view to use just the edges for easy typing on the large 10″ displays.
Another great alternative is Thumb Keyboard and you can see our hands-on here.
HD Widgets
Widgets are single handed one of my favorite aspects of Android. Having the power to add anything and everything to your homescreen really makes your device unique to you — unlike all those iThings. If you've seen awesome weather and time icons taking up screen real estate most likely it was Beautiful Widgets or even weatherbug for tablets. My favorite has always been Beautiful Widgets but the new kid on the block is HD Widgets and it currently is what graces my homescreens. Being HD and having that extra polish with color choices, curved and rounded edges and tons of transparency options it really is the best around. While its not a full suite of widgets they have more than enough for any phone or tablet size.
I know I said five but don't forget to check out Google Currents — as we are a featured partner over at our sister site SlashGear. Currents is Google's new RRS style news reader for tablets and is amazing.
We'll keep this short and sweet so you can all enjoy your new tablet and gadgets (and don't forget your family). Alternatively you can head to the Android Web Market and check out the specific tablet apps Google themselves recommend.
Have fun and have a Merry Christmas!