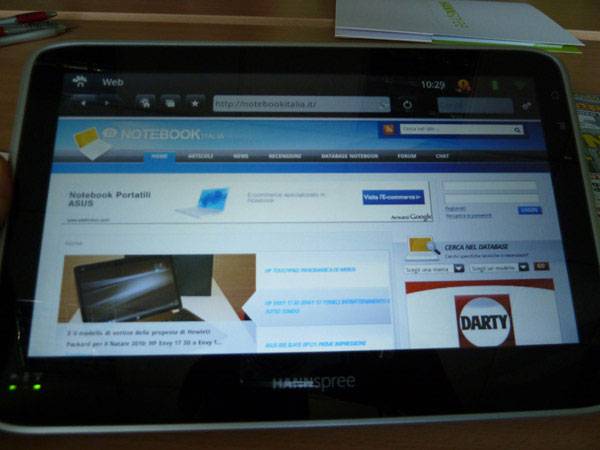 The geeks over at Notebookitalia attended a meeting where the pricing details and specs for some new Hannspree tablets were offered up. The new tablets include the SN10T1 for Q1, the SN10T2 for Q2, and the SN10T3 for Q3. All three of the tablets sound interesting and they will share a few of the same specs.
The SN10T1 will sport a 10.1″ screen with a resolution of 1024 x 600. It will use the Tegra II processor with 16GB of storage and run Android 2.2. The tablet will feature WiFi and Bluetooth for €349. The SN10T2 tablet will have the same 10.1″ screen, use a T1 processor and have 8GB of storage. It too will run Android 2.2 and will have WiFi, Bluetooth, and a camera for €299.
The last of the new tablets will land in Q3 and is called the SN10T3. This tablet has a 10.1″ screen but that screen has a resolution of 1280 x 600. It will run the Tegra II processor and have 16GB of storage. The operating system eon this tablet will be Android 3.0. It will also pack in WiFi, Bluetooth, and a camera for €449.
[via Notebookitalia]