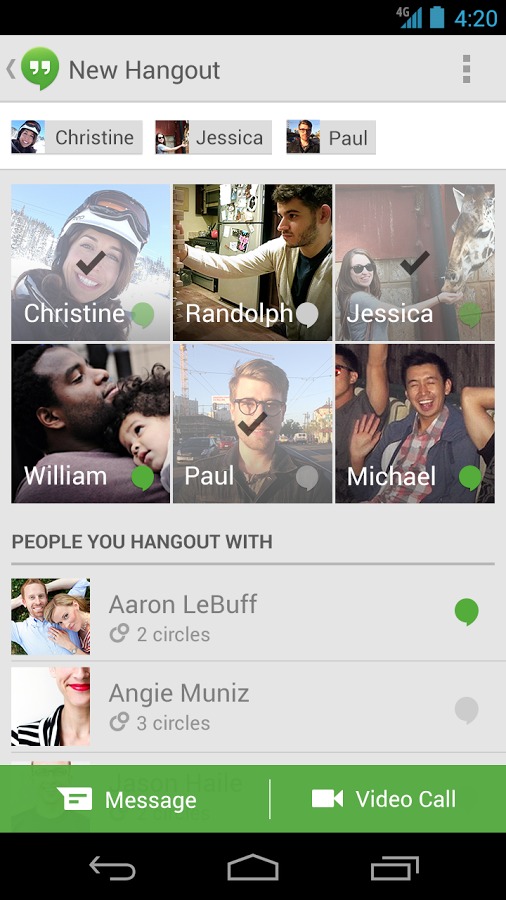 Hangouts for Android is getting an update and it looks like this time around Google will be adding a feature that many have been waiting and hoping to see. Diving right in, this update is adding status indicators for your contacts. Basically, users will now be able to see who is, and who isn't online at an given time by checking the color of the icon on their photo.
These status indicators will be green or gray. Green of course, indicates the user is online and gray shows an offline/unavailable status. This update will be coming available over the "next few days" and users will be able to get the latest version of Hangouts from the Play Store. This update will bring the app to v1.2. While the indicators should be a welcomed addition, there are also a few other items coming with this update.
Google has brought the Hangout invites to the top (above your conversations) so they should be a bit easier to find. In addition, Google has switched things up in terms of contact browsing. Moving forward users will see People You Hangout With, Suggested People and Other Contacts going from top to bottom. Simply put, this should make it easier to find who you are looking for when starting a new hangout.
Otherwise, the final change for this update deals with hiding people. Hangouts for Android v1.2 brings the ability to hide people from the New Hangout screen by pressing on their name. You will need to long-press here, and that will present you with a Hide Contact option.
Aside from this Hangouts update, Google also recently announced an update for Gmail on Android. Just like the update for Hangouts, the Gmail update is said to gradual and coming over the next few days. Perhaps more important, this Gmail update is bringing some UI improvements as well as an indicator (in the inbox) letting you know if automatic sync is turned off.
SOURCE: Google+