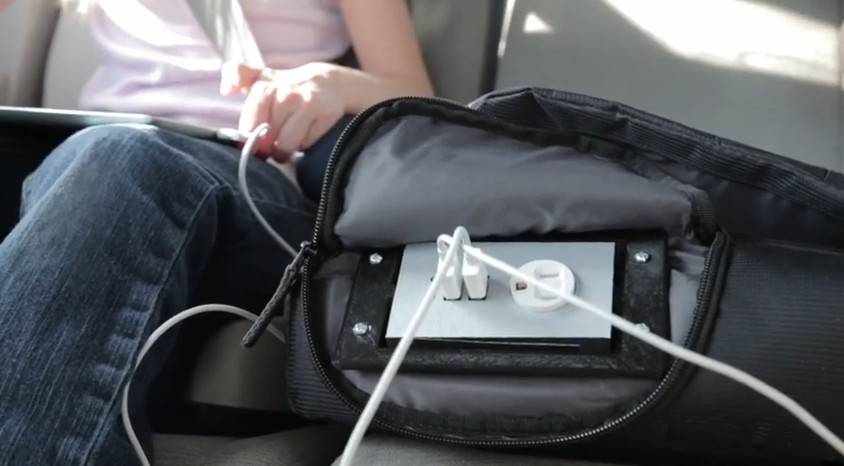 Charging one's devices while mobile is one of the major concerns of people in this age of smartphones, tablets and phablets. Powerbanks seemed like the ideal situation at first, but now, even those are not enough. An upcoming product in the market called GoPlug bags aim to be the solution to this problem of having power even when on the go.
Designed for business travellers, GoPlug lets you charge your phones, tablets, laptops and even cameras through the lithium-polymer battery pack that comes installed in each of their bags. Unlike a typical power bank which can give phones around 2 or 3 charges only, each bag lets you charge your phone up to 6 times, your tablet twice, and your laptop will be able to get two full charges on a single charge. The built-in cord that comes with the bag can also serve as an extension cord for those times when just one plug is not enough.
The GoPlug bags also come in different variants; a messenger bag (ERP $179), a backpack (ERP $179), a trolley (ERP $219), carry-on case (ERP $219), a camera backpack (ERP $259) and a camera carry-on case (ERP $319). All of the different bags are also fully functioning as luggage, aside from the built-in batteries that power them.
GoPlug bags is actually a start-up project looking for funding in crowdsourcing site Kickstarter. But it looks like there are more than enough people willing to support this project as they have already raised $144,049 as of this writing, and with 13 days to go until the campaign ends. They were only asking initially for $20,000 but the response shows that consumers are in need of this kind of product. The manufacturer is expecting the initial products to ship out to the donors as early as August this year.
SOURCE: Kickstarter