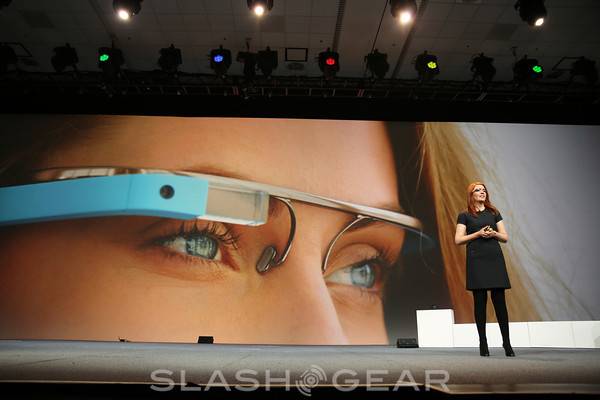 Google Glass has made a surprise stop here at IO, and they are teasing live video streaming right from Project Glass. It wasn't really a surprise as we were all hoping to see the device here at IO, but not in this fashion. Google's own Sergey Brin showed up wearing them, and had a little treat for us too.
Not only can Project Glass take pictures, but their newest edition can also record video. That isn't all either as they are streaming the entire thing live. Google's Project Glass has just jumped out of a blimp above Google IO here in San Francisco and are live streaming the entire thing via a Google+ Hangout session.
These augmented reality glasses skydived onto the top of the Moscone West Center here in San Fran, then they took a few BMX bikes down a building or two, and finally made it on stage for a demo. Google's running over a few of the specs although aren't saying anything specific. Project Glass has 3G/4G data (multiple radios) microphones, speakers, a camera (with video obviously,) sensors, compass, gyro, and more. It knows where you are, connects you to your friends, lets you take plenty of pictures, and keeps you social with Google+.
What makes Google's Project Glass even better is the comfort. If it's heavy and uncomfortable who will wear them? Google has just stated thy are lighter than many sunglasses, yet are sturdy enough to do daily activities like mountain biking, playing tennis and more. Google wants Glass to work with as many people as possible — anywhere.
Stay tuned for more on Project Glass!
Update: Google will be tossing these to lucky Google IO attendees for the low low price of $1,500 — shipping early next year. We'll update when we know more.