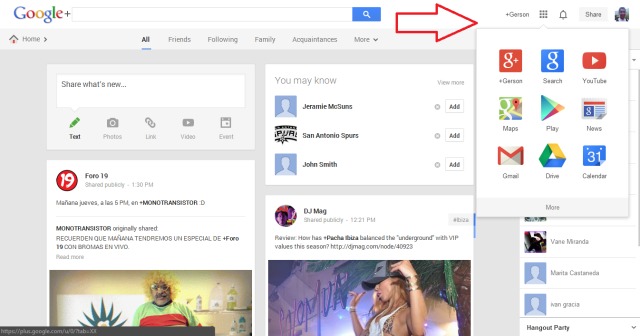 This morning we're getting multiple reports that Google has changed up their usual black navigation bar on their homepage, and replaced it with a brand new Android-style app launcher. The horizontal black bar for navigation to Search, Images, Maps, Gmail, Play, YouTube and more have all been moved to an app launcher menu. Blending the lines between Android and desktop even more.
The new square icon on the top right of Google's main page resembles the app drawer launcher from Android, and now opens a similar drawer with a grid-style layout of the same navigation destinations for Gmail, Search, YouTube and more. Now all in a easy and convenient system similar to what we've all been using on smartphones for years.
In case you didn't notice, they actually look exactly the same to the related icons on Android. Right down to the recently updated YouTube icon and all. This design has been spotted as far back as March of this year, but rarely seen my more than a few eagle-eyed readers, but today TechCrunch has confirmed it's finally ready to go live.
Update: Google's made the changes official this afternoon in a brand new blog post.
In a recent Google+ post showing off the new design we got confirmation right from a Googler. Community Manager Justine Rivero dropped in and said, "Glad you noticed! We'll be rolling out this new feature in the next few weeks… stay tuned!"
Obviously this isn't Google Chrome OS merging itself with Android or anything, but it's nice to see Google continuing to improve and refine our experience. With billions of Android devices in the wild it makes sense for our PC experience to be similar to mobile. Who's seeing the new design and layout?
VIA: TechCrunch