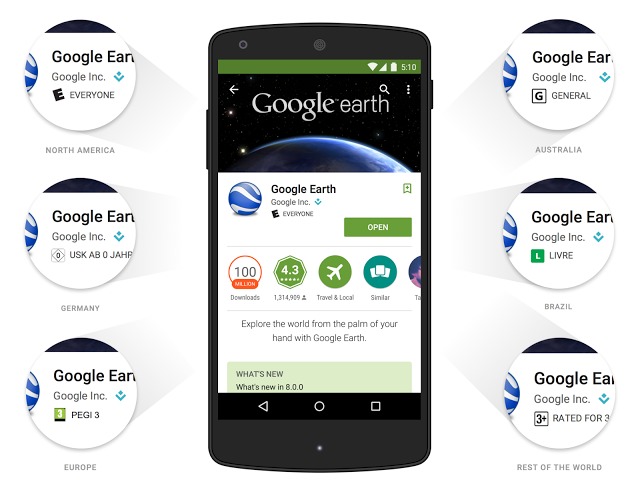 In an effort to better serve both developers and users, Google announced that they will be implementing a new app rating system that will be based on age and region, and not a universal standard. "Appropriate" content varies from country/region and age group, and so you cannot hold just one standard for everything, is what Google is saying, and in the next few weeks, this will reflect in all the existing apps in the Google Play Store.
Before a developer submits an app for uploading in the Play Store, they now need to fill up a content rating questionnaire, which will then be turned over to appropriate ratings bodies (depending on what country/region your app or game will be sold in) to be rated objectively. Google assures developers that this process is not that "painful" and will give even better feedback fro you. By May, all apps submitted by developers must have the accomplished questionnaire before getting approved (or denied).
Even the already existing apps will have to be reviewed. Developers will be prompted to go into their console and take the same ratings questionnaire for each of their current apps that have already been published or are still waiting for approval. If the questionnaire is left unanswered or incomplete, the apps will have an "unrated" status. This is not good because your app might get deemed inappropriate in some regions for some age groups.
Another update for developers is that Google will now let you know why your app will not be approved. Previously, you'll just receive a notice that it has been rejected, but without any explanation. Now that you will know why, it means you can fix what's wrong and submit it again for approval.
SOURCE: Google