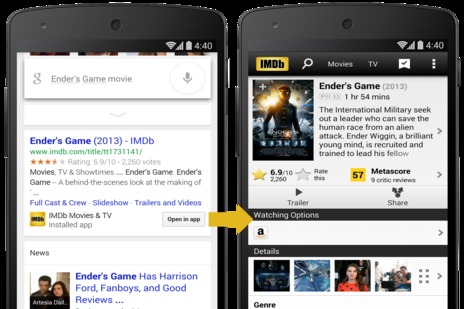 Google Search is getting a lot more functionality for Developers to take advantage of. With the update to KitKat, Google Search will now provide a link to show content in the app, rather than just web searches. Functional, but not quite perfect, it should still provide a wealth of exposure for those with good integration.

One of the examples given by Google was a search for a cookie recipe, which in turn offers to display the recipe in the app rather than a web page. That's great, except it doesn't provide for app discovery. The search content will still re-direct to a web page, but there is no re-direction to the Play Store to get the app. Of course, Developers could install an "install wall" for those mobile site visitors.
Linking the app is done by a two-step method: both the website and app must acknowledge one another. The website must "allow" for the re-direction to the app, and the app must "allow" the deep linking, and point to where the info can be found. For sites without their own app, a second party app can be used, but the same protocols must be followed.
It's not really robust right now, with only about 10 apps/sites taking part, but it's another way your experience is becoming nearly seamless throughout Android. The full list of partners can be found on the Google Developers site, and the video below give an in-depth look at how it's accomplished.