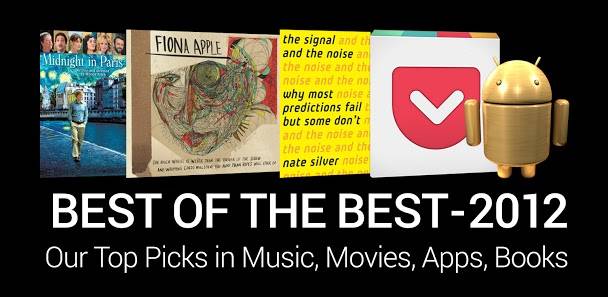 The world didn't end on December 21st and now the year is slowly but surely coming to a close. Last week many companies, Google included, posted videos highlighting and wrapping up 2012 and today Google's done the same thing with apps and music from the Google Play Store. Below is just a few noteworthy mentions of Google's top apps, music, movies, and books from the world of Android.
This year in Google's Android apps and music wrap up twelve apps or games made the list, then there's tons of books, a few magazines, movie rentals, and of course top hits in music. There's one page summing them all up here, as well as individual lists too. If you were expecting to find some gold in here with apps you've never tried, this won't be it. Instead they're all pretty popular choices, although I'm not to fond of most.
I mean Midnight in Paris, a chick flick with Woody Allen of all things made the list — what does that tell you? All jokes aside Google's gathered a pretty good list here. Apps include Pocket, the offline reader app. Pixler Express for photography, and Ancestry for well — Ancestry. They've also got Zappos, Pinterest, Evernote, or apps like Expedia for travel. So nothing amazing, but pretty useful apps for the general public.
Then movies like 21 Jump Street made the cut — that movie was awesome. Then we have Drive, and a movie I've never heard of called Moonrise Kingdom. Then we have a few books (no Twilight thankfully) some Fiona Apple music and that pretty much wraps it up. I'm not sure how or what Google used for this list, but probably consists of most downloaded or clicked items from their Google Play Store. We gathered a few of our own apps for phones and tablets on Christmas, and only one of Google's made the list. That would be Evernote. Here's the full lists
Best of 2012: Apps
Best of 12: Music
Best of 2012: Movies
Best of 2012: Games
What were your favorite apps of 2012? Drop us a comment below.