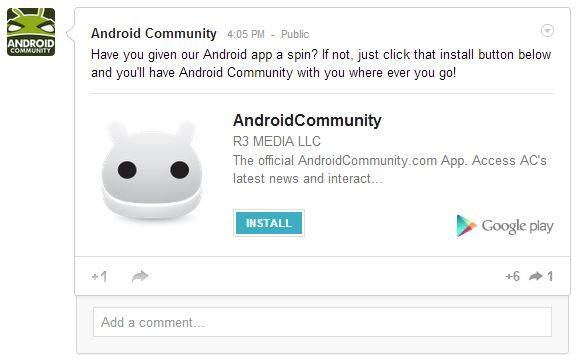 If you're the type of person who likes to recommend apps to friends, then pay attention to this next bit of news. Google has added a new feature to Google+ that allows for one-click Android app installs right there in the feed. This means that you can suggest an app to your Google+ friends and they'll be able to download it from right from your post without ever having to go to the Google Play Store.
Pretty nifty, right? What you see above is our own experiment with the new feature, and everything seems to be working quite well. This is just the latest step in Google's attempt to integrate all of its services with one another, forming one huge, unstoppable Google network. While that's kind of terrifying, we happen to think that this new feature is pretty cool, so we'll let it slide.
Of course, Google is still lagging behind Facebook and Twitter in terms of user numbers, but if the big G keeps adding cool features like this, that might change. It'll be a long time before Google+ can challenge the likes of Facebook for social networking dominance (if it ever will be able to, that is), but the addition of new features that are actually useful can't hurt Google's efforts.
We're thinking that now would be a good time to remind you of Android Community's presence on Google+. Not only can you head over to our page right now and download our Android app, but you can also add us to one of your circles to get the latest Android news right there in your feed each and every day. What do you think of this new feature?