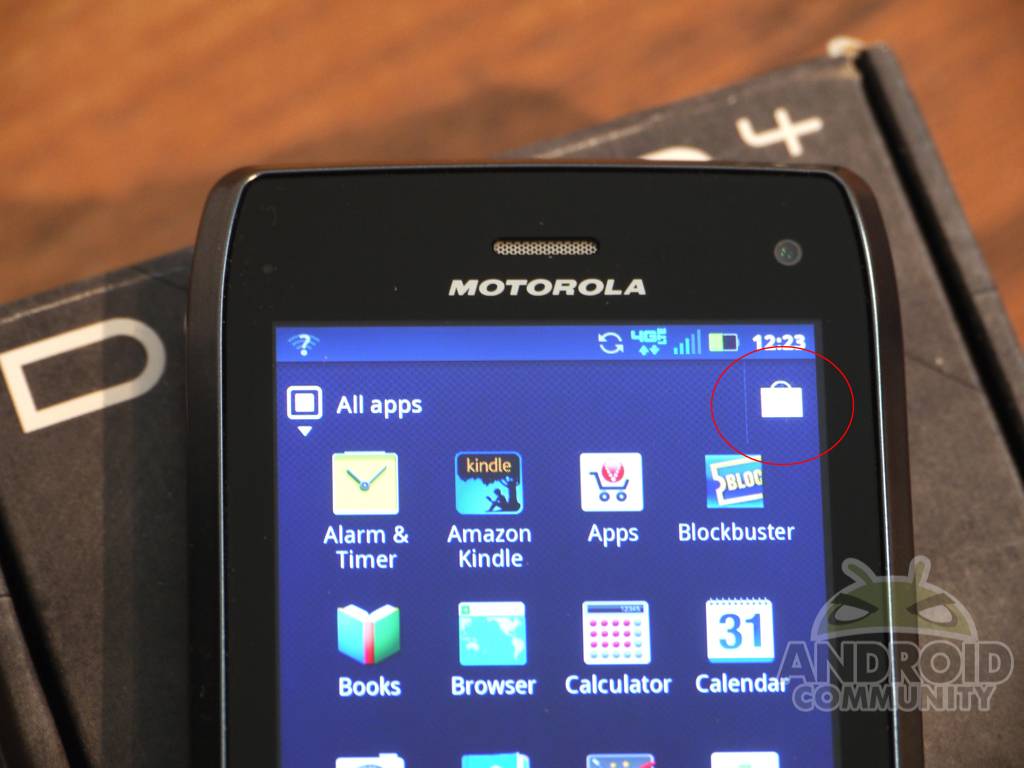 In case anyone missed the huge news yesterday, Google renamed the Android Market and all their Music and Book stores to one simple thing — Google Play. Along with the big news that everything would be combined into one was the new Android Market is called the Play Store, and the update has been rolling out and replacing the Android Market on phones and tablets the past 24 hours. Sadly we have received multiple complaints that this update is breaking the market icon for Motorola phones and their BLUR user interface.
Now this isn't actually a full on problem. The Android Market (Play Store) isn't actually broken on Motorola devices with the latest Moto BLUR UI changes. Instead it appears to just be breaking a small part of it. In the image above you'll see the Market icon circled. This is a custom Motorola feature that is always at the very top corner of the application tray. Instead of flipping through the various apps you have one click to access the market.
Once you update to the new Google Play and Play Store this icon no longer works. Becomes a broken icon and wasted space. When clicked we simply get an error that reads: "Application is not installed on your phone". For anyone that maybe updated and is seeing this update don't worry. The market is still on your device you'll just need to find it in your app tray and launch it from there.
Basically the new Play Store update is breaking the permanent shortcut on Motorola devices. We recommend users manually add the shortcut or icon to their homescreens as the one at the top of your app tray seems to be broken with the latest changes from Google, most likely because the name change. Until Motorola releases a software patch this will probably have no fix unless our friendly developers can whip something up.
Is your Motorola phone market link no longer working after accepting the new Google Play Store update? Drop us a comment below.
[via Motorola Forums] — Thanks Nathan!