Android is open source, so it follows that they will be giving developers and device manufacturers a lot of freedom to customize the platform for their needs. But that freedom doesn't include using Google Apps – or GApps for those in the know – while ignoring Google's Compatibility Test Suite (CTS). Unfortunately, some OEMs have shamelessly done so, and Google is now cracking down on this. And it's about time, as well.
XDA reports that Google Play Services will now be checking the build date for a system image to see if the date is after March 16th. If it is, then signing in to your Google account using this build will be blocked. Custom ROM users can manually register their devices for an exemption, but the bottom line is that Google will be stricter in implementing this rule for manufacturers who use GApps improperly.
The biggest impact of this new change will be felt by those who use custom ROMs. As far as what XDA has discovered, it seems that only the sign-in process has been blocked. But you can register via this website for an Android ID using your personal Google account so that you can be given an exemption. According to Google, you can register as many as 100 Android IDs using your personal Google account.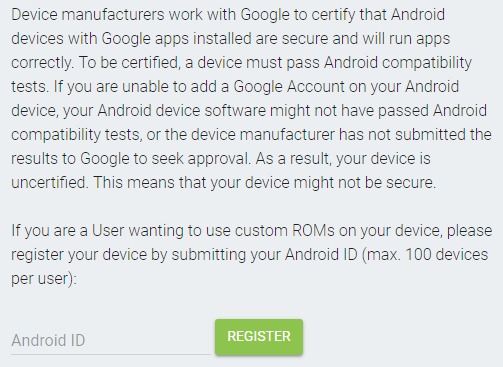 It is not known if those who use bootloader unlocked builds – which are otherwise unchanged but for the unlocking – will be affected, since builds with unlocked bootloaders are also detected by the Google Play Store as "uncertified". Surely there will be more information about this soon.
SOURCE: XDA