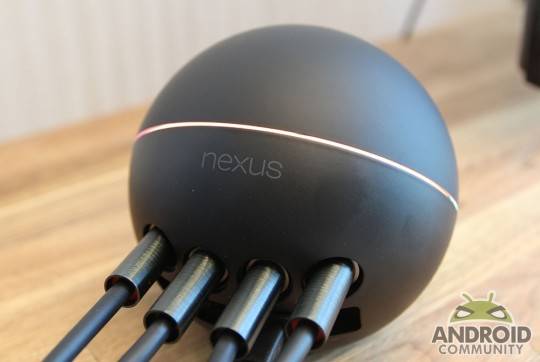 If you've been waiting for Google to reintroduce the poorly-executed Nexus Q media streaming device, we've got some bad news for you. Google has removed the device from its Nexus landing page, which suggests that it may not be coming back anytime soon. In fact, Google may have decided to pull the plug entirely, as the Nexus landing page is now only populated by the Nexus 4, Nexus 7, and Nexus 10.
The Nexus Q is still listed on the Google Play Store, but as Engadget points out, it's accompanied by a message that reads "This device is not for sale at this time." Google delayed the official launch of the Nexus Q back in July, after some critics noted that the Nexus Q is an expensive device that doesn't do all that much. At the time, the big G said that it would go back to work on "making it even better," and it even sent out free Nexus Qs to those who had pre-ordered the device.
While we were excited to see what Google could come up with, now we're not sure that we'll ever get the chance. Google hasn't provided any official word on the matter, instead only saying that it doesn't have anything to share at this time, so the fate of the Nexus Q is currently up in the air. Give it your best guess, because at this point, it's as good as ours.
We'd love to see the Nexus Q come back strong with a bevy of new features, but at least if it doesn't, it means that Google has realized that there's little point in offering feature-thin products just because it can. What do you think? Is the Nexus Q dead, or is it just going away for a while to let the new Nexus devices soak up the limelight?