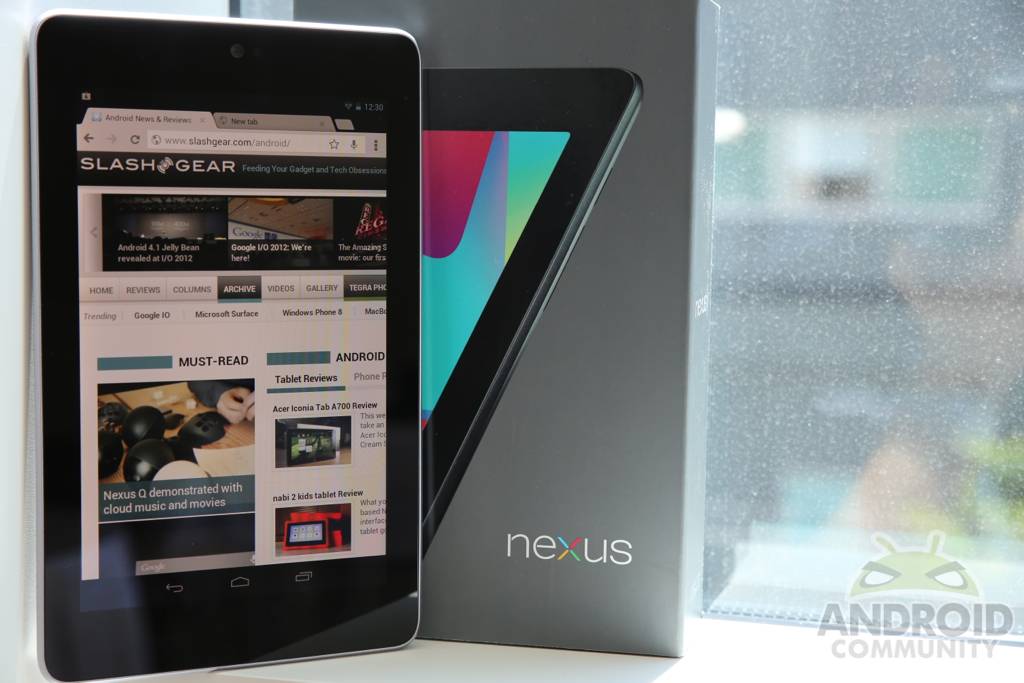 We're here at Google IO where Google has just announced their first Nexus branded tablet. The Nexus 7 was unveiled during the keynote complete with Android 4.1 Jelly Bean and we have one already for our own hands-on and unboxing. Below you'll see plenty of pictures and hands-on with the new Nexus 7.
The Nexus 7 is Google's first tablet under the Nexus brand, and represents much more than the XOOM. Google's Nexus 7 is the first device to run Android 4.1 Jelly Bean — along side the new Galaxy Nexus we've receive too (more on that coming soon.) You should know plenty about it already from the leaks and our earlier coverage, so how about we just talk about the actual tablet.
The Nexus 7 looks and feels great. The build quality is excellent coming from the folks at ASUS, and the soft touch matte back feels absolutely stellar. Holding it in your hand is comfortable, and the grip is excellent — but a bit clunky being 10.45mm thick. We all know the specs but just in case Google and ASUS have equipped this thing with the NVIDIA Tegra 3 quad-core processor at 1.3 GHz, a 12 core GPU for graphics, 1GB of RAM, 8 GB of internal storage — and is confirmed to not have a micro-SD slot for extra storage. Our unit has just 5.2GB remaining after a few apps and magazines, so that is a bummer. Without further adieu, here is the video:
Jelly Bean runs sooo smooth too. Google said it right on stage with Android 4.1 they were calling it project butter: meaning they wanted Jelly Bean to be absolutely butter smooth — and it is. Everything that made Ice Cream Sandwich smooth with hardware acceleration has all been improved. V-Sync, triple buffering, and touch responsiveness have all been overhauled and you can seriously tell.
Add that to the new and improved notification bar, the clear all option, voice dictation, and Google Play Magazines. All of this rounds out new the tablet, and we've just gotten started. Homescreens have been tweaked to play nicer with widgets, and widgets play nicer with app icons. Now everything automatically moves when needed. Widgets re-size if there's no room, and makes room by replacing the app icons on another screen.
The Google Nexus 7 is seriously fast and stable, the quad-core runs great, and the build quality is great too. It might not be the absolute best but for $199 it is surely a force to be reckoned with. The brand new Nexus 7 ships mid July and is available for pre-order today from the link below. Get it now in 8GB for $199 or 16GB for $249. We'll dig in deeper later tonight. Stay Tuned!