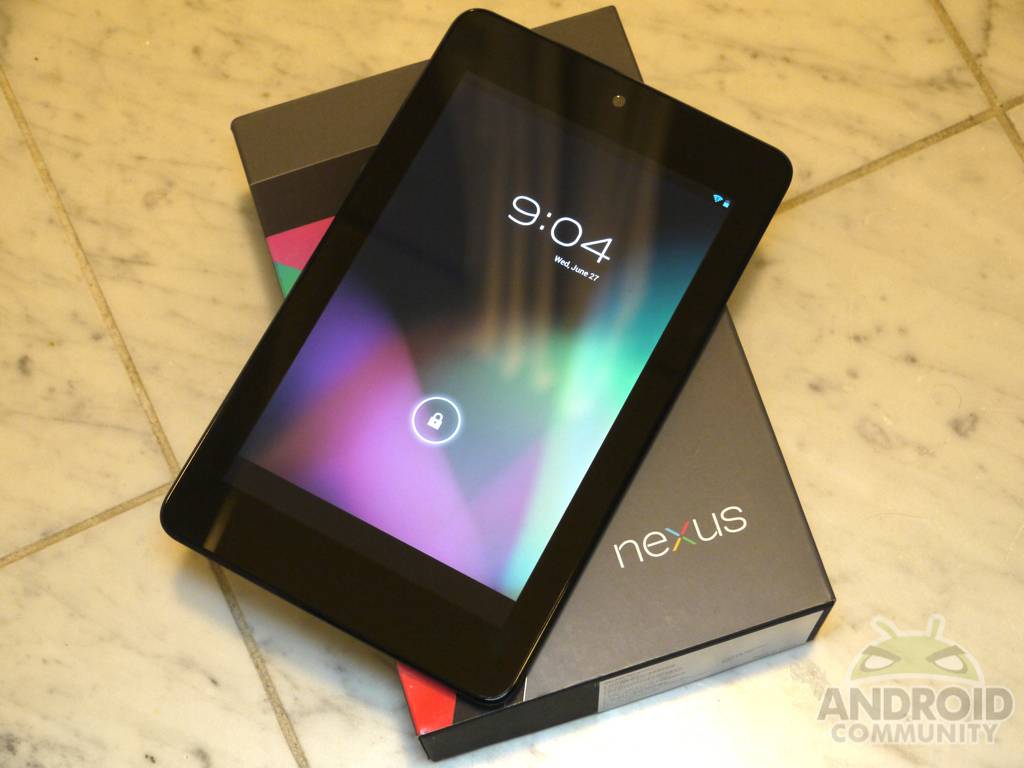 The ASUS Nexus tablet, Google's first tablet in the Nexus family is finally here and it's called the Google Nexus 7. Surely you saw all of our coverage from earlier today. From the announcement post, or immediate hands-on coverage and more, but now we're diving in a little deeper with tons of info and our initial review impressions.
Google's new tablet is pretty impressive. Is this just a Kindle Fire fighter? Yes and no. Of course this will directly compete with the Kindle Fire (and kill it) but it also competes with all of the Android tablets currently available — not just 7-inch models. Coming with impressive specs, the latest version of Android, and an awesome price how could it not? Below we'll show you a few more videos, plenty of screenshots, and as usual some benchmarks of that quad-core Tegra 3 processor. Stay tuned and enjoy it all below.
First off you'll want to start with our initial unboxing where we show you the Nexus 7, the new Galaxy Nexus with Android 4.1 Jelly Bean, and a quick look at the new media device called the Nexus Q. We unbox them live on the IO floor before digging in so check it out!
Hardware
Now lets talk about hardware here. This isn't the thinnest tablet, but it's pretty close to being one of the lightest. Google and ASUS have a pretty great idea to bring a great overall package at an extremely low price. You get "almost" all the specs you'd ever want all for just $199. Here's the rundown on the Nexus 7 specs:
– 7" 1280×800 HD display (216 ppi)
– Back-lit IPS display
– Quad-core Tegra 3 processor
– 8/16 GB internal storage ($199/$249)
– 1 GB RAM
– Micro USB
– 4325 mAh (Up to 8 hours of active use)
– Android 4.1 (Jelly Bean)
– 198.5 x 120 x 10.45mm
– 340g
– WiFi 802.11 b/g/n
– Bluetooth
– 1.2MP front-facing camera
– Scratch-resistant Corning Gorilla Glass
[VMS 62c36ecb73b654b05ba2]
The hardware is great here, especially when you take into consideration everything they've packed into this slate while managing to also keep the price down. The build quality is extremely pleasing, and assures you this is a quality device. The 10mm thickness was something I wish was a little thinner, but I'll gladly live with it for the price, plus it makes holding it in your hand easier. I know this is going against anything we've previously said, but something too thin has sharp corners that aren't ergonomic. This tablet is comfy in the hand — and I'll surely spend hours at a time using this bad boy.
The soft touch matte back is unique. It has a very soft rubbery feel, yet a plastic-like durability. Here at Google IO we were all kindly given a Nexus 7 and ours are white, the tablet on the Play Store is black and I'm still undecided on which I like best since I have both in my hands (a shame I know.) The device comes with only a 1.2 MP front camera and nothing on back — which is fine to keep price down. We'll talk more on the front camera below but lets just say you can't use it like a regular camera. Google opted NOT to offer a micro-SD slot, which I think is by far the worst part of the tablet, and I love everything else.
The display is excellent as most IPS panels are. Screen is bright, vivid, crisp, and the viewing angles are exceptional. The touch response is severely improved and works great, but we can chalk that up for being part of the improvements made to Android 4.1 Jelly Bean — as they worked specifically on that. The tablet has the sometimes hard to find power/wake button and volume up/down on the right, and nothing on the left. Down below is the single micro-USB port for charging, and hopefully has MHL support since we don't have HDMI-out. Then on bottom is also the 3.5 mm headphone jack and a microphone for all those voice actions and dictation.
Overall is the hardware amazing? Yes and no. It could be thinner, possibly a little lighter, and a micro-SD slot for extra storage would have been nice Google. Will I accept the slightly chunkier body and Google's cloud options and enjoy it for the $199 price — heck yes! While we've only had about half a day to enjoy this thing, we can't truly give you our thoughts on the hardware but our initial thoughts are extremely positive, and I've seen no issues with screen problems, build quality, or anything else yet and so far everything's been rather enjoyable.
Software

This one is a biggie. We don't want to plaster you with software and Android 4.1 Jelly Bean details, and you can look for a dedicated review for that later this week. Instead we'll just show you tons and tons of screenshots of what's new with Jelly Bean, as well as a look at this quick software hands-on below.
Google has really stepped up their game with Jelly Bean. If you thought 4.0 ICS was their best yet you'd be right, but Jelly Bean is an obvious improvement. It might not be the leap many thought was coming, but is still significant. From the small, subtle yet fresh UI changes, to the overall improvement and efficiency of the performance. Everything is smoother, faster, more stable — and just better. Google called this project butter, where they wanted the OS to be butter smooth and they've achieved just that. Animations are as swift as ever, and I'm seriously loving this tasty treat even more than the frozen Ice Cream.
Google Now is their new assistant, but we aren't sure this is all they have planned so we can't call this Project Magel. It does however track your location, learn from you and your habits or search results, and will become an assistant giving you highlights on your favorite teams game, traffic conditions while and before heading to work — and much more. As shown in our top photo, simple slide your finger from the bottom of screen up, or hold the home button and it will appear. It's very smooth, simple and easy to activate.
The series of cards it will output show you everything you need to know and more. Obviously this will take a good WiFi or 3G/4G connection, and some time with the device to learn from you. We've just received ours so won't get too deep without further time to enjoy it.
Next we'll talk about that notification bar. Who by the way has seen a huge improvement and overhaul herself. It's capabilities and general user friendly attitude has been greatly expanded. Jelly Bean makes the notification bar on tablets closer to the phone experience, which I was expecting originally. When you get an email notification it isn't just the name and a number. You see subject line, and a few more lines, how many new emails, and other things if available — it's much smarter. You can even shrink the larger notifications by pinching your fingers, or swipe to clear as always.
It's been centered instead of being in the bottom corner, and now pulls down from the top. You conveniently can see emails, weather with Google Now, music playing and more all without leaving what you're doing. It stays transparent so you can see what was below it on screen, and you don't even have to drag it away — just tap anywhere on the screen and it will go back to its home up top and out of the screen. Google Now still needs some work, but we'll talk more on that later.
Widgets. Widgets are now interactive and adaptive. If you need room on a homescreen Jelly Bean makes it. It moves widgets, icons and more out of your way and lets you place a widget with ease without having to re-arrange your life. I love my homescreens just how I want them, but I'm sure many will love this feature for the convenience. Oh and speaking of widgets with Android 4.1 Jelly Bean we have tons. Google Play is all over the place. From magazines you own or recommendations, and the same thing goes for apps, music, movies and more. They are large, in your face, and look awesome. Watching Transformers (pre-loaded) on this Nexus 7 is pretty neat and I might just fall asleep to some Megan Fox in a Camero tonight.
Google's project butter UI surely shines through with Jelly Bean, and I'm a huge fan already. Ice Cream Sandwich is still the same, but has been improved in multiple areas and makes Android even better.
Benchmarks
This is an area that many enthusiasts love to see, and others don't care. We still like to stack devices up to the competition but lets just say between the quad-core Tegra 3 processor and Android 4.1 Jelly Bean, this is one of the best performing and smoothest devices I've ever used. Either way here is a few benchmark results.
Now having this device for only a half a day we can't seriously have a full out review, although many will try I'm sure. Instead this is our initial review and some first impressions, as well as tons of pictures and screenshots for those who want them. Battery life was listed as 9 hours of video playback during the keynote, but the specs state 8 hours — so we'll have to give that a thorough test later on. The front camera isn't able to snap pictures at will so once we do a few fun hangouts this week we'll take some pictures and post those up too. Yup there is no camera app or way to snap photos since it only features a front camera, which appears to be dedicated to Hangouts and video chat only.
Wrap-Up
Google has finally unveiled Android 4.1 Jelly Bean and their new tablet, and they didn't disappoint. The leaks leading up to the announcement took away some of the excitement, but overall I'm still extremely pleased and have enjoyed the device thus far. Is this the best Android tablet ever? No. Maybe. Is it available at an awesome low price of $199 and pretty amazing? Yes!
The only actual con to the Nexus 7 I see is the lack of a micro-SD slot. Everything else was just what I was expecting and more. I'm excited to enjoy this slate over the new few days and will be sure to report back with additional details. Jelly Bean brought the refinement and changes that weren't total needed, but are all completely welcome around these parts.
Google has a real winner on their hands with the Nexus 7, and it will be hard to top for a while by the rest of the manufactures. Everyone else has lower end devices with higher price tags so this is most definetaly worth a quick look, and your dollars. Today was only day 1, and we have much more coming from Google IO, the Nexus 7, Jelly Bean and more so stay tuned and hit the links below for additional coverage.
Pre order the new and amazing Google Nexus 7 today from the Play Store (here) and it should arrive sometime mid July. If you have questions drop them in the comment section below and we'll do our best to reply. Who's buying?
[device id=2841]