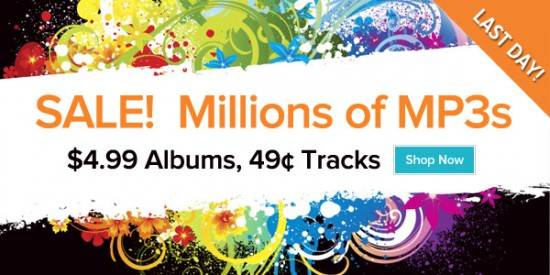 This is mainly a public service announcement for all of our loyal readers that Google's massive holiday music sale will be ending today sadly. They've been offering millions of songs for only $0.49 cents and full albums for $4.99 throughout the holiday season. If you haven't bought up a few I'd suggest you hurry.
Many of those songs of which were Christmas or holiday inspired so I'm sure many got all the holiday jingles they could find. Who bought the Justin Bieber music? I sure didn't but don't be afraid to raise your hand guys. I'm one of the few that still wants actual copies of my music on CD or bought and downloaded to my PC but at just $4.99 for entire albums I bought my fair share.
While Google has been pushing their new Music store quite hard with free songs of the day and massive sales like this recent one we don't know when the next big opportunity for cheap music will come around. If you haven't already bought a few albums you've been eying today would probably be a good time to snap up a few before the sale officially ends tonight. Buy the music right on your phone from the Android Market or hit the link below and get started.