It is looking like Google has begun testing a new service called Mine. The details are just starting to come available and for now what we have seen has the service listed as being "internal only." That of course brings the warning that Google always has plenty of items in such a state and not all will see a public release. That said, Google Mine looks to be a place where you can collect and catalog things.
Google Mine could be used to keep track of things that you currently own and also a place to keep track of things that you may like to someday own. As one would expect with a Google service, Mine does have Google+ integration. The integration looks to include your Circles, Stream and Photos and is further described as follows;
"Google Mine lets you share your belongings with your friends and keep up to date with what your friends are sharing. It enables you to control which of your Google+ Circles you share an item with. It also lets you rate and review the items, upload photos of them and share updates on the Google+ Stream where your friends get to see and comment on them."
Some of this also appears connected to recommendations and real-world sharing. Some of the features include being able to send a request to borrow or try out something a friend has and also share details of items that you are hoping to purchase in the future. The sharing details of items brings the recommendations portion in that you can get feedback from friends.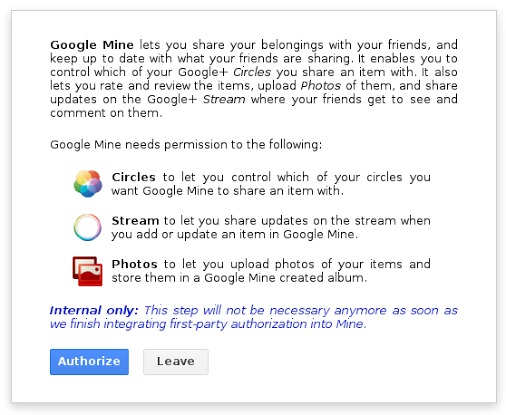 A few of the messages connected to these features include "lent" and "got it back." And for those who plan to borrow regularly, there is also one labeled "had in the past" that should help you keep track of what you have borrowed. Aside from the talk of what will be available on the web, it also looks like an Android app is being tested. Similar to Google Mine, the Android app is being testing internally only and at the moment is in the Bazaar (the internal Play Store).
Again, we do have to remember that we have yet to see anything official from Google in terms of Mine. In the meantime, this does seem like a good way to Google to gather quite a bit of extra data on each user and that does leave one to ponder the name. Is this mine a place where you keep your things, or is it a nice play on the ability that Google will have in mining your data?
VIA: Google Operating System, Google+ Mike Elgan