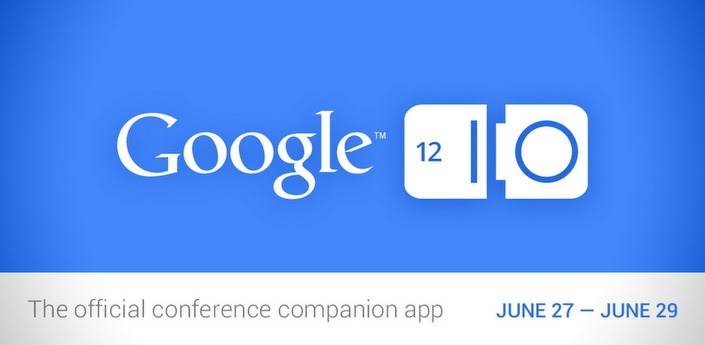 Google's large developer event, IO 2012 is quickly approaching and will be starting early next week. We are super excited and so should all of our readers. As usual Google has released their conference companion app in the Google Play Store. This year however it's been updated to Android 4.0 ICS design standards, and even shows us a possible glance at Android 4.1 Jelly Bean.
With the new Google IO 2012 app you can personalize your agenda and schedule, get detailed sessions and speaker information, and even +1 things right from the app and share with your Google+ friends. Any Android 3.0 Honeycomb device or above can even playback the live video streams from I/O sessions too — that is neat.
Then since everyone seems to be talking about it, the screenshot above shows a possibly redesigned Android 4.0 ICS launcher. The Google search bar is built into the ICS launcher, so we could be seeing a slightly redesigned UI with Android 4.1 or Jelly Bean, or maybe they've allowed the search bar to be a widget again, as it was before Android 4.0 Ice Cream Sandwich. That could be our first look at Jelly Bean, but we seriously doubt it.
One interesting fact is every screenshot for the new IO 2012 app shows the time of 25:10, which obviously isn't a real time of day. Could this be a teaser that October 25th is when they plan to officially launch the next version of Android — codenamed Jelly Bean? That seems a bit far off for a teaser but anything is possible. Get the all new Google IO 2012 companion app today to get ready for their developer event, or stay tuned right here because we'll be live on site!
— Thanks JJ and Paul!