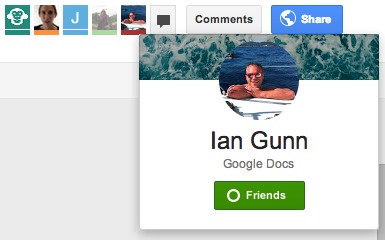 Google has rolled out the latest update for Drive and while we tend to keep focus on the mobile side, this is an update that touches on the desktop side. Needless to say, we can hope that some of these Drive changes make their way over to mobile. That being said, this Google Drive update has made it quicker to see information about others that happen to be working on a particular file.
In a basic sense, you can now get details about that person, or even click to begin chatting without leaving the file. These details will be accessible by way of the newly added profile pictures. You can get a look at the setup in the image sitting above. A group chat button will also be included along with the profile images. A click of the chat button will open a chat box allowing you to message all those currently in the file.
In addition to these few changes, Google has also made some improvements to the offline capabilities of Drive. This second bit comes by way of the official Google Drive plus page and assuming you already have Google Drive setup for offline use, you will now be able to create and edit drawings offline.
Google has also made some other improvements for offline Drive. In this case, once again assuming Google Drive is already setup for offline use, all of your Docs, Sheets, and Slides will be automatically available offline. Simply put, you no longer have to worry about syncing before you go offline. With that, while Google has announced all these changes, they may not be immediately available for all. In fact, Google has said these changes will be rolling out "over the next day or two."
[via Google Drive Blog]