A lot of tech companies and apps seem to be on a virtual house-cleaning spree and this time it's Google's turn. They have announced that the legacy version of Google Drive, Docs, Sheets, and Slides will be shutting down by April 3 this year, so maybe it's time to update to the latest version if you still haven't done it for some reason. The web version of Google Calendar meanwhile has gotten an update to catch up with some of the Android features.
If you're still on a legacy version of the apps, then you will receive a prompt when you open your app, which says "Version too old" and then by March 1, some of these users will be forced to upgrade already or else they won't be able to use the app anymore. The good news is that the web and desktop applications will not be affected, although it is almost always a good idea to upgrade to the latest version anyway.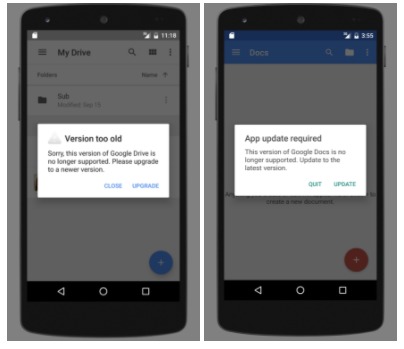 Meanwhile, the web version of Google Calendar will receive an update so that it will have the features that the Android app previously received. When you create meetings, it will make suggestions as to where you can have it based on the previous rooms that you've used. And if you work with people who are on different time zones, you will have the "Find a Time" option which will show you where all the time zones of the participants are so you can find the most convenient time for all.
If you don't know what version your app is, you can always find it in your settings menu. If we were you, we won't wait until April 3 or even March 1 and just update it now to save you from all the hassle later on.