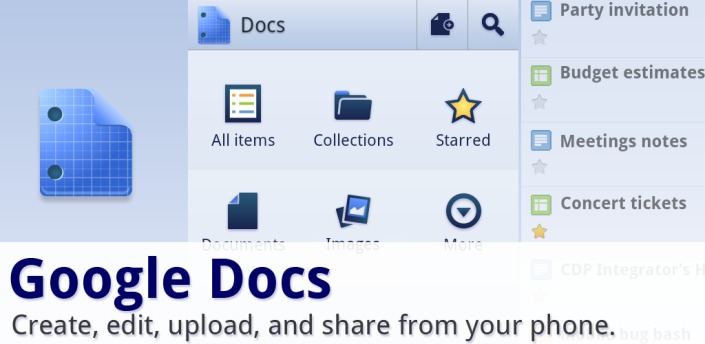 It looks like everyone's favorite documents application for Android we all know as Google Docs received a little update today. It's all about that cloud-based web functionality here. The main feature in the update today is the ability to quickly and easily upload photos to Google Docs and the web clipboard. This is a great feature for mobile users and something we can use on-the-go with ease.
Now from in the app or conveniently on the Android widget users can select the camera and directly take a photo with their smartphone. Once the photo has been snapped you have three options. Upload files without conversion, Convert file to Google Docs format, and Send to Web Clipboard. Now from either your mobile device, or anywhere else you are using Google Docs you can quickly access the cloud-based web clipboard used by Google Docs to get access to those photos or documents you've uploaded. Neat huh?
Google's team has also made opening and sending easier and now has more options. You can now open documents with any compatible viewer application or send a doc as an attachment through email or another compatible apps on your phone. They've also been nice enough to add support for an additional 46 new languages with this latest update. If you've been waiting for your language to have support most likely today's update brought on goods you need to get to work.
For more details and pictures head over to the Google Docs Blog.