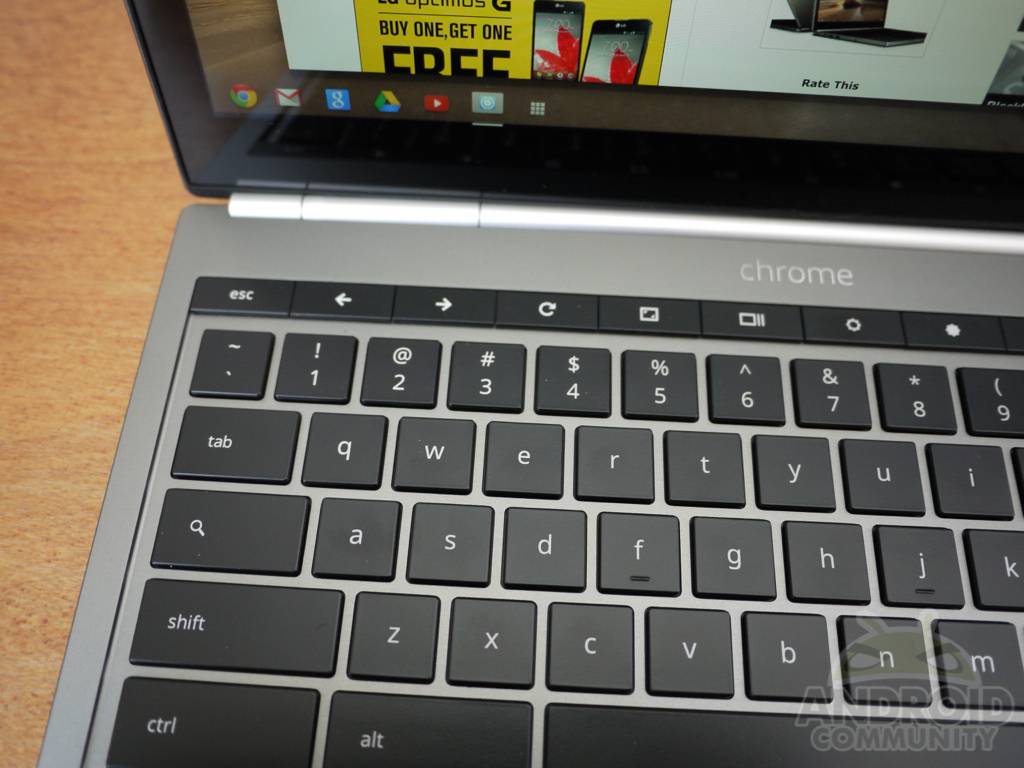 Google blasted onto the high end laptop scene last week with their all-new Chromebook Pixel. We had a pretty good idea it was coming based on a few leaks, but they shocked everyone with a quick announcement last week. Not to mention the price also being a shocker – to say the least. Offering a 12.85-inch 2560×1700 'Pixel' display, dual-core Intel Core i5 power and more but that price sure is daunting. Read on for our initial impressions.
It might not run Android but you can't blame us for wanting to take a peek anyways. This is completely Google built, and screams of quality with a hint of their Nexus lineup in there. We were excited to give it a look so lets check it out. The Chromebook Pixel was certainly needed. In a market full of cheap Chromebooks this is Google's attempt to change everything. Is the Chrome OS ready though? Lets find out.
The Pixel is a Chromebook with specs that clearly match the competition – whoever that may be. Not only that, it also passes them on many levels. The Pixel features a stunning 12.85-inch 'Pixel' display with a 2560 x 1700 resolution at 239 PPI and 4.3 million pixels. Do you really have to ask? Yes, yes it look amazing! With a Gorilla Glass 2 protected multi-touch panel and decent viewing angles we're enjoying it, but sadly the screen glare is awful. This is the fastest Chromebook yet. With a 1.8 GHz dual-core Intel Core i5 processor, 4GB of DDR3 RAM, and a 32GB SSD for storage. As well as a 64GB 4G LTE option coming in April. That isn't a lot of space but with your purchase users get 1TB (1000GB) of free Google Drive cloud storage. Google wants you to push anything and everything to the cloud. Then you'll get two USB 2.0 ports, Displayport, and a full SD slot to add to that internal storage limit.
Everything about Google's new Chromebook is premium. Everything. The build quality is great, the design is elegant, and since we know you're dying to hear it again – that screen is beautiful. Lets talk about the screen. It certainly is on par with the MackBook Retina, but the viewing angles aren't quite as good. Color reproduction is excellent, and the touchscreen feature seems great. We'll need plenty of time to test this out, but so far everything is butter smooth.
For a quick look at the Pixel as it arrives at your door, and the experience going from boxed up to ready to browse in a matter of minutes be sure and check out the video below. You'll see how smooth the touchscreen and OS is, as well as a look at the hardware. This is the fastest Chrome OS we've used to date. That's for sure.
Thanks to Google finally aiming for the high end we have a stunning 4.3 million pixel display, Intel's powerful Core i5 1.8 GHz dual-core processor, and a SSD to keep things very speedy. As we said above, this is the best Chrome OS and Chromebook yet. This is one of the most exciting things from Google we've seen yet, and we have a feeling this is just the start – and not just for Chromebooks.
So far our initial impressions are extremely favorable in terms of the hardware and design. This thing is a work of art. However, this work of art isn't being displayed properly thanks to Chrome OS being in its infancy. We've only just got started but so far we're loving everything about this device. Build quality is top notch, the screen is wonderful, oh and the integrated speakers under the LED backlit keyboard sounds amazing. I was truly shocked to hear such loud, crisp, and clear sound from the Pixel. Well done Google!
We will obviously need to spend some serious time with the Chromebook Pixel. Flipping through webpages with that touchscreen, installing web apps and Angry Birds, and everything else you'd expect to do in a browser. Since that's essentially almost all we have here — a glorified browser. It's a tough pill to swallow. This is one of the best looking laptops I've seen to date, but I'm worried about the OS. Google's certainly tempting those who love technology here, but only time will tell how things turn out.
The Chromebook Pixel is on the Play Store as we speak for $1,299 or you can opt for the 64GB Verizon 4G LTE model for $1,449 coming in April. It certainly isn't cheap, not at all. Who's up for it?