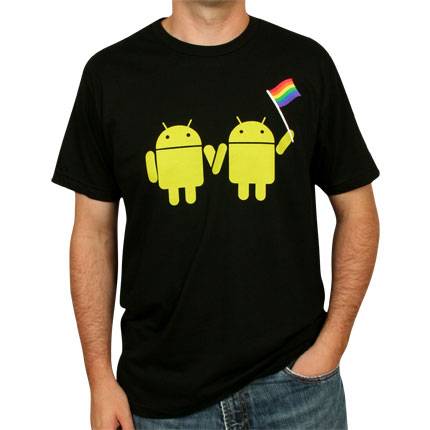 Prepare yourselves for the cutest most awesome Android t-shirt you've ever seen in your life. Two Androids holding hands, one of them waving a rainbow flag. This is the newest uniform of the "Gayglers", a group of Googlers, aka employees and associates of google that've been supporting GLBT rights for quite a few years now. This particular photograph was taken just this past weekend at New York City Pride, Gay Pride that is, at one of the many events across the United States in essentially every big city (including right here in my home city of Minneapolis), rainbows and singing and dancing galore – and in this case, Androids galore as well!
The image you see above was posted by Bearhouse on Reddit in a thread that then erupted into talk of "what am I looking for here" and "I think I see *celebrity*." We're in a progressive online world now where it's much more likely that we think a company NOT supporting gay rights is odd, so much so that people on Reddit could not understand why Bearhouse posted a picture of some Google employees and friends marching in a Pride parade in NYC.
If you'll take a look back to a post in the official Google Blog from 2007, you'll see that "Our Corporate Equality effort" means rights for Gayglers all across the world, not just USA, and that Google supports gay right and has been doing so, again, for years. Take a look below at an official Google Employees "It Gets Better" video also:
In addition, you can take a look at the 9/26/2008 post in the same Google blog to see what Google's official position was (and is) on California's Proposition 8, aka government action to officially strike down Gay marriage in CA – yes, they were against it. In July of 2010 Advocate came across the fact that Google would be covering taxes on employer-provided health benefits for Gay couples that their straight couple counterparts were not having to pay because the government recognized their union as a full marriage:
"Google is not the first company to make up for the extra tax," reported the Times. "At least a few large employers already do. But benefits experts say Google's move could inspire its Silicon Valley competitors to follow suit, because they compete for the same talent. … Under federal law, employer-provided health benefits for domestic partners are counted as taxable income, if the partner is not considered a dependent. The tax owed is based on the value of the partner's coverage paid by the employer." -NYT
And what about that shirt in the photo up there? Is it available for purchase? Of course it is! You can get that shirt right this moment over in the official Google Store. Note- it appears that the Androids there are yellow, but I'm pretty sure the image file is just blasted a bit. Green it more than likely is.
Put your paws up, Androids!