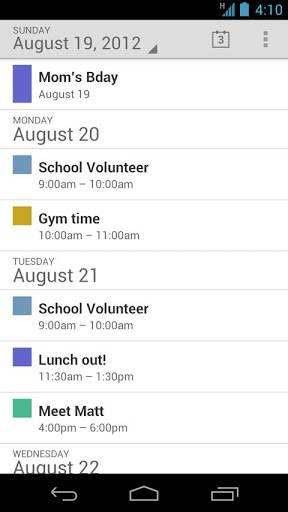 Google's Calendar Web application is now available as a standalone app from the Google Play Store, bringing it alongside the likes of Gmail and Google Maps. The app requires at least Android 4.0.3 Ice Cream Sandwich. This is the same Calendar app included on Google Nexus tablets and smartphones.
This app brings with it several updates from the initial Ice Cream Sandwich build, including event-specific colors, the ability to email all the guests for an event from a notification, and snooze reminders via notifications. Changes made since Jellybean 4.1 include the ability to send feedback within the app, and a synced event time range that extends one year into both the past and present. Also, obviously, the app also has been tweaked for improved compatibility with non-Nexus devices.
With the Google Calendar app, you can manage your existing calendars from your smartphone. The app lets users create, edit, delete events, and respond to invitations, in addition to the new features listed above. Users can use pinch-to-zoom, and, while travelers can set their default timezone to help keep things organized when they enter a new time zone.
According to the description on Google Play, there are known issues with HTC devices at the moment, including possible day and week view issues on some devices, notes and pictures may end up removed from apps, local unsynced events might disappear after Calendar is installed, and opening an email invitation via a mail app may cause Calendar to open in a browser instead of the app. Check out some screenshots in the gallery below. Have you downloaded the app? Let us know what you think!
[
via
Official Android Blog]