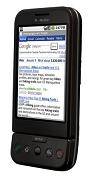 Google have announced mobile access for their Google Book Search service to Android-based devices, such as the T-Mobile G1.  The launch, which is also formatted for the Apple iPhone, offers 1.5 million books in the US and over half a million outside of the US that the search giant has digitized and made available online.
Although the titles – which are all public domain – have been available for some time now, what's different is Google's new mobile reader client.  This portal, which can be accessed by visiting http://books.google.com/m, reformats the page layout to be more easily read on the small screen of a mobile device.
Available titles include everything from general fiction, through travelogues and philosophy, to textbooks and business manuals.  Coincidentally, Amazon revealed this week that they are working on a mobile version of their ebook service, which will run on select cellphones.