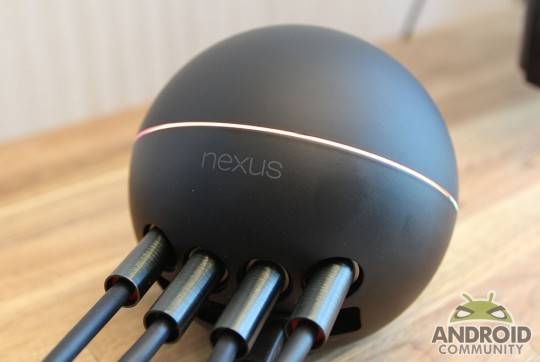 Yesterday, Google announced that it would be heading back to the drawing board with the Nexus Q. Those who pre-ordered the device aren't being left out in the cold, however, as Google announced that they will still be receiving the Nexus Q at the very reasonable price of absolutely nothing. Today, Google confirmed to Android Police that it has started shipping out those free pre-orders to customers.
This isn't the first time Google has handed out free Nexus Qs, as it gave everyone who attended Google I/O a free device. Sadly, the initial feedback about the device wasn't that great with users complaining that there wasn't much bang for the buck. That feedback is what led Google to "suspending" the launch of the Nexus Q, and the company says that it will now get to work coming up with new features for the device.
The good news is that the Nexus Q will be keeping its unique design, so if you liked the look of this first iteration of the Nexus Q, it shouldn't be too different when Google brings it back to market. As for what features Google plans to add, that's up in the air at the moment. Needless to say, we're pretty excited what Google comes back with.
For now, however, those who were lucky enough to secure a pre-order of the device will be getting one for free, while the rest of us have to wait for the Google's next attempt at a media streaming device to arrive. Maybe the next Nexus Q will come with a decrease in price? One can only hope. Keep an eye on your mailboxes, Nexus Q pre-order customers – it sounds like you'll be getting your free device shortly!
[device id=3067]