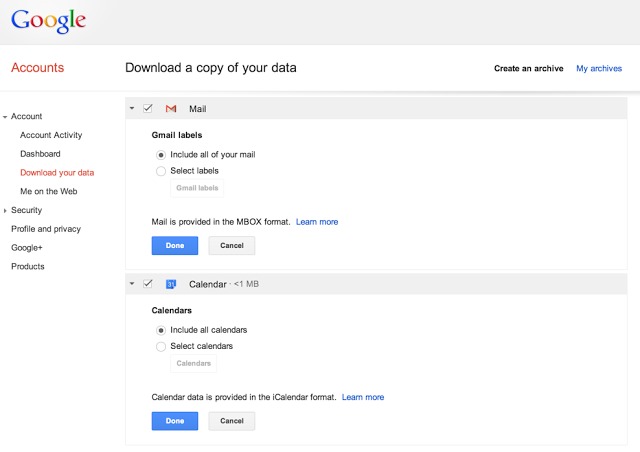 Google has announced a new feature for Gmail and Calendar. In fact, they have announced the same feature for both services — the ability to download your data. This option could be good if you are thinking of changing to a new service, however it should also be nice for those who simply want to keep a backup.
According to details coming from Google, all users will be able to download the Calendar data beginning today. As for the Gmail data, that support is expected to rollout over the next month. While we wait for Gmail download support, this can be found on your Google Accounts page. Just head to Accounts and then look for the "download your data" option in the left side menu.
From here look for the blue "create an archive" button and once that has been clicked, you will have the option to choose which services you want included in the data download archive. While Calendar is new and Gmail is coming, these two are really just adding to a growing list. Some of the others are Hangouts, Google+ Circles, Stream or +1s, YouTube, Drive, Voice, Contacts and more.
The complete archive will come down as a zip file and the specifics will otherwise vary by service. For example, the Calendar data will be iCalendar. And once available, the Gmail data will be in the MBOX format. The good news here, users will be able to customize what they want included for Calendar and Gmail.
On the Calendar side that means selecting all or just specific calendars. Similarly, on the Gmail side that means getting all of your email or just messages from certain labels. That said, while many seem to trust Google, it also doesn't hurt to have your important data stored in another location, just in case the worst happens.
SOURCE: Official Gmail Blog