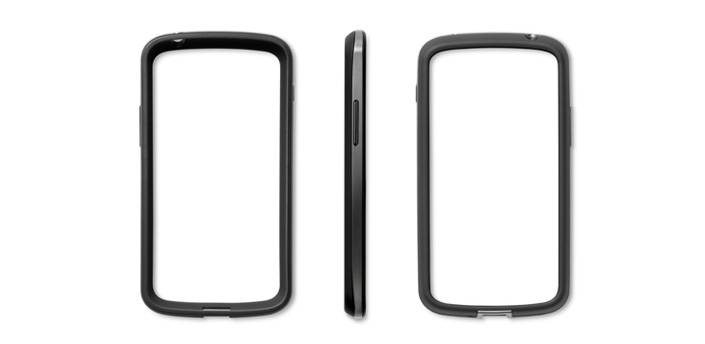 In case you guys didn't remember, the brand new LG Nexus 4 will be available starting tomorrow direct from Google in the Play Store. The 4.7-inch quad-core powered Android 4.2 Jelly Bean smartphone is quite excellent — and now Google's already offering accessories for the device. Head on past the break for more information.
The LG Nexus 4, Samsung Nexus 10, and the 32GB Nexus 7 tablets will all be available for purchase starting tomorrow, November 13th from Google. While you still can't actually purchase the Nexus 4, Google's already added the first (of hopefully many) accessories for their new flagship smartphone.
The Nexus 4 Bumper Case (pictured above) has made its way to the Play Store this evening — and is listed as coming soon. Once the devices actually go up for sale later tonight or tomorrow morning you'll be able to get a neat little case to protect your shiny new Nexus. It comes at a price premium though.
Google's gives essentially zero details about the case — or what it's constructed out of — and only mentions that it's black and weights basically nothing. The bumper case keeps the same two-tone design element as the smartphone, and could possibly come in additional colors at a later date. Now we're just hoping they'll also add a few official desk or car docks too. Stay tuned for more details!
[via Play Store]