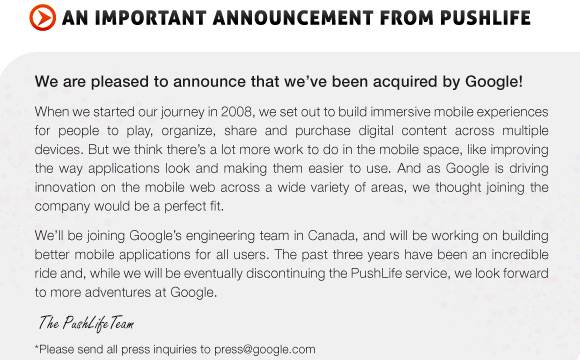 Google has talked more than a few times about music on Android. We all know that the music player isn't one of Androids strong points, but all the Pros heavily outweight the music player. I use it daily and enjoy it. Today Google just took another step in the right direction. They have acquired a media company called Pushlife, site only saying that Google bought them now. The rest of the site is offline.
Pushlife is a very smart and fancy designed all-in-one music solution for all your needs, and hopefully will be the same way for Google. They've already been building for the Android and RIM platform, but today Google has purchased them for somewhere around $25 million. Pushlife for those that don't know is a media solution similar to iTunes. You can stream music, buy music with a click, and even access your music from your PC on the cloud. This would be great for Android.
With automatic sync, Facebook and Twitter integration, what else would we need? The actual software, and Google has done just that by buying them out with hopes to make it work for them on Android. I for one am happy to hear. We can probably expect to see some work in progess or a demo here at the upcoming Google I/O. This could be cloud music storage, 1-click buying and sharing, or even better it could be both. Check out the video below to see some of the cool things Pushlife can do, and get excited because it's coming to Android.
[via Phandroid]