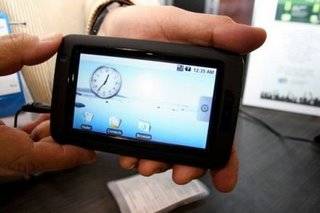 GiiNii was at CES this past week with a demonstration of their newest product the Movit Mini.  This sort of Internet tablet has support for Wi-Fi but there is no support for cellular bands. The good thing about this tablet is that it is Android-powered.
The Movit Mini comes with a beautiful 4.3-inch touchscreen with a resolution of 480 x 272 pixels. With the aid of a microphone, speaker and webcam you will be able to place Skype calls with the built-in support for Skype. Internally there is 256MB of memory expandable via microSD card slot.
Along the side you will find a 3.5mm headphone jack and there is also interface support for Bluetooth 2.0. It sure seems that smaller companies are looking to Android to help boost them into the more mainstream market. The GiiNii Movit Mini will be released to the public about the middle of 2009 for about $149.