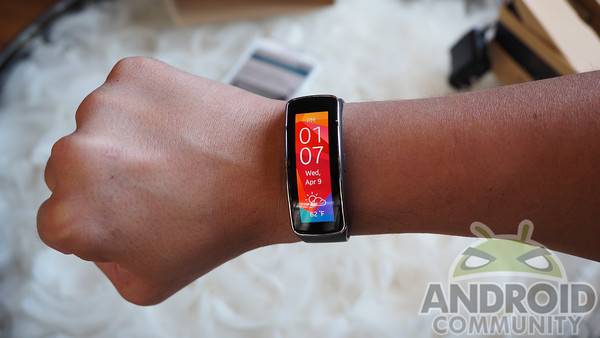 Tearing open a smartphone or tablet seems so easy, now that iFixit has ripped open the Gear Fit from Samsung. The tiny wearable got the teardown treatment, where we find it empty, and void of parts to make it work like a smart wearable should. No, wait, they're just attached to the back of the screen.

That's right, Samsung affixed most of the Gear Fit goodness to the back of the tiny AMOLED screen. A move like that is going to hurt the repairability score, since it now has to be heated, picked at, and otherwise coaxed into revealing what makes a Gear Fit go rather than simply extracted from the body. What we find inside is nothing short of impressive, though. From iFixit:
432 x 128 pixel AMOLED display
STMicroelectronics STM32F439ZIY6S 180 MHz, 32 bit ARM Cortex CPU
Macronix MX69V28F64 16 MB flash memory

InvenSense MPU-6500 6-axis gyroscope / accelerometer

Broadcom BCM4334WKUBG dual-band 802.11n, Bluetooth 4.0+HS, FM receiver combo chip
Maxim Integrated MAX77836 (the same chip we found in the Gear 2—likely the micro-USB interface controller and Li+ battery charger)

Melfas 8FM006A (likely touchscreen controller)

Texas Instruments 1211A1 standalone USB transceiver chip
While iFixit liked what Samsung has done in keeping the Gear Fit compact, they don't give it a great score. By their metrics, the Gear Fit scores a six out of ten, meaning you likely don't want to try and repair anything yourself. The tiny, curved battery was of interest, but ultimately the only thing that was moderately easy to remove and replace. Let's be honest, though — most of us won't try and repair our stuff anyway. What we take away from this is that the Gear Fit is a well-made device, solid and thoroughly impressive for a tiny wearable.
Source: iFixit