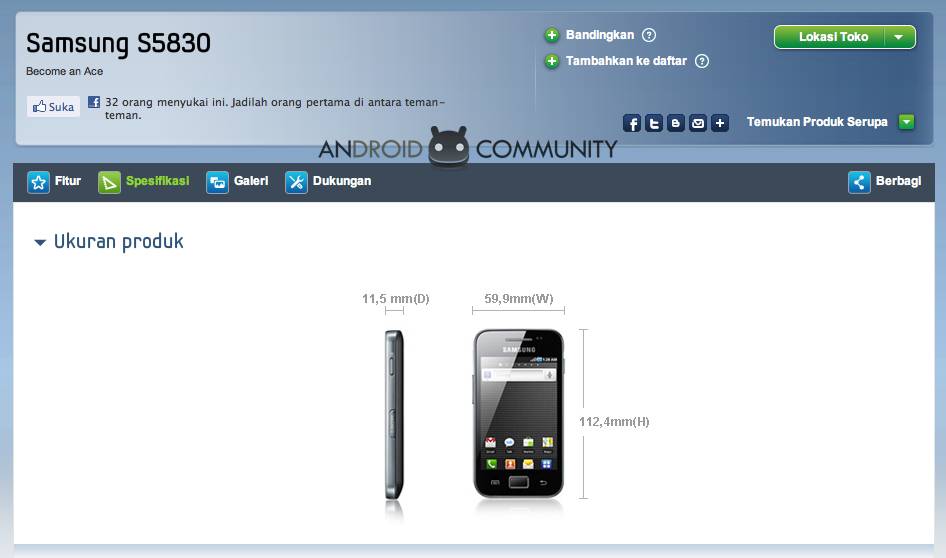 Take a peek at the brand new Samsung Galaxy S Mini, appearing now to be called the "Ace." This is also known as Samsung S5830 is a tiny little thing with a distinct absence of a search button, a menu button on the left, a back button on the right, and a big fat beautiful home button in the center. This little guy has a generous 5 megapixel camera on the back, a 3.5-inch HVGA(!) touchscreen on the front (320 x 480 pixels), and it runs Android 2.2 Froyo out of the box. It runs speedily on a 3G network, Wifi 802.11 b / g / n, and a 1.350mAh battery – also expandable external memory up to 32 GB.
The NO on the AMOLED touch screen is surprising, the rest really isn't. Looks like a cute little character if I do say so myself. Will it be whipping through hardcore speeds and high-ranking processor action? No way. But does it have to? Heck no, it's a mini.
BTW the image above and the rest below have been unintentionally (we suppose) leaked via Samsung Indonesia, but chances are it'll find its way stateside before you know it. Know anyone in your family who would find this little looker a perfect fit?
[Via Geekword]