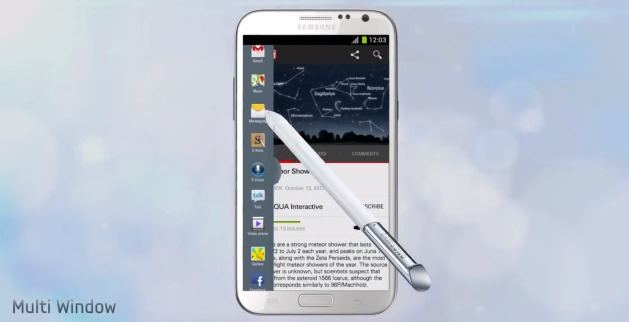 The Samsung Galaxy Note II in Europe today received a new firmware update that adds a multi-view function. What is multi-view? It is a slick feature that allows users to have two windows open on one screen. This opens up tons of options for multitasking in a more computer-like way.
Imagine watching a movie on your device and having an IMDB window open at the same time to find out who the stars of said movie are. The potential uses for this new feature are nearly limitless. Of course, not all Android apps support this feature, but as more devices have the feature we expect more apps to start using it.
New Galaxy Note II devices in stores had this feature installed already, and it is good to see Samsung issuing the feature for devices already in the wild. Right now the new firmware is available in Austria, Belgium, France, Germany, Hungary, Italy, Spain and the United Kingdom. Besides multi view, it is not clear what else is included in this updated firmware.
Users can update their devices over the air or using Samsung KIES. Either way, if you live in one of the supported regions, you should be able to get this new firmware right now. Let us know in the comments how you like the new feature.
https://www.youtube.com/watch?v=R8bKvj1ZlsE
[via Sam Mobile]