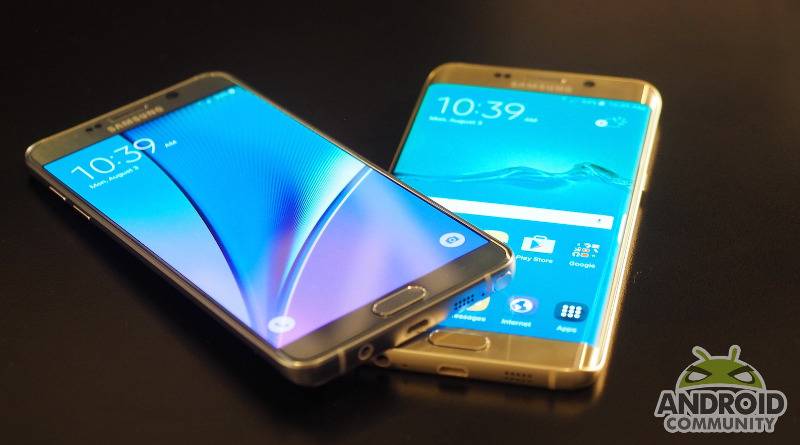 The awaited day has finally arrived. Samsung has pulled the veils off the Galaxy Note 5 and the Galaxy S6 edge+. Suffice it to say, it's everything that we expected and heard it to be, but this time in the flesh. Of course, they look so much better than any render or prototype could ever resemble. And they aren't all show either, sporting the best of the best in hardware, sans a few controversial features. We go hands-on for an appetizer of Samsung's new sleek phablet twins.
The same pattern you've seen in the Galaxy S6 and Galaxy S6 edge early this year is repeated all throughout. You have two phablets with almost similar sizes and even more similar internals. Both, for example, sport the same Exynos 7420. Not the 7422 but that should hardly matter as far as end users are concerned. The CPU is a 64-bit octa-core chip running at a combination of 2.1 GHz and 1.5 GHz. RAM is a 4 GB LPDDR4, the largest and the fastest in this part of the industry. Both have 3,000 mAh batteries and both support both fast-charging and wireless charging. Both even have the same 5.7-inch Super AMOLED display with 2560×1440 QHD resolutions.
Sadly, as far as hardware specs go, they also both lack removable batteries and microSD card slots, but that's probably already expected by now, thanks to Samsung's new design. It may not be a big deal for the Galaxy S6 and S6 edge, and maybe not even for the Galaxy S6 edge+, but for power users that flock to something like the Galaxy Note 5, that might be a bit crippling.
Cameras are also important for smartphones these days, and the two are unlikely to disappoint. The 16 megapixel rear shooter has an aperture of f/1.9. If it's the same as the Galaxy S6's, then we can be assured of quality, at least based on benchmarks like DxOMark. The front shooter, though only 5 megapixels, also boasts of an f/1.9 lens, which should help improve low-light photography results.
Enough with the tech specs. We now dive into the design. Unsurprisingly, the Galaxy S6 edge+ will be the head turner here, both due to its larger size and the dual curved edge that made its smaller predecessor popular. As leaked previously, Samsung has indeed expanded the functionality of that edge to include shortcuts to your five favorite apps. However, that still feels somewhat underutilized. Almost a year after the edge idea was introduced, we have yet to see functionality to much the novelty. Still, for some, it might really be appearance that counts.
If functionality is your interest, then the less fancy but still shiny looking Galaxy Note 5 might be more to your taste. Instead of curved display edges, it has curved back edges, supposedly to afford a better grip than most flat backs, including the Galaxy S6. Although the display is just as large as last year's model, the phablet itself is overall smaller, now just at 153.2 x 76.1 x 7.6 mm and 171g (the Galaxy Note 4 measured 153.5 x 78.6 x 8.5 mm and weighted 176 g). And of course, there's the S Pen, which now uses a push mechanism to remove itself from the body. It also has a more metallic look to match the metal Galaxy Note 5. It isn't just the hardware that's changed though. Sammy is finally allowing users to add their own app shortcuts to the Air Command that pops up when you remove the S Pen. There is also a new "Scrolling Screenshot" which lets you take a screenshot of a whole web page from top to bottom in one single image.
When it comes to special features, both phablets are definitely lacking. There's the same swipe-free fingerprint sensor that we welcomed with open arms in the Galaxy S6. Samsung's wireless payment feature also makes its appearance here, with its support for both NFC and traditional magnetic stripe terminals. Samsung Pay definitely sounds like a game changer, if only it would actually launch already.
Samsung's new SideSync 4.0 also makes an appearance here, allowing users to seamless bridge the gap between PC or Mac and smartphone, with features like easy drag and drop of files from one device to another, incoming call notifications, and even taking the call right on your computer (provided you have the hardware for it).
Making its debut is Samsung's support for Ultra High Quality audio, which goes by the name of Hi-Fi audio in other circles. This boasts of quality of 24 bit/192 KHz, higher than CD audio quality. The phablets can actually upscale audio, whether CD or even lower MP3 quality, to UHQ. What's more, if you own one of Samsung's Level wireless audio accessories, they can stream music in that UHQ quality too.
As far as accessories go, the Galaxy S6 edge+ definitely takes the cake. The leaks were correct and Samsung does have a keyboard case in the style of Ryan Seacrest's ill-fated Typo accessory. We wait to see if it will be hounded by lawsuits as well. The keyboard case snaps on full on the back of the Galaxy S6 edge+ but only occupies a fraction of the front naturally. It's just a facade though. There is no mechanical connection like a real keyboard. The keyboard here is just pretend and simply produces touch events on the screen underneath. The user interface does adjust to make room for the keyboard so you don't look access to buttons but you do lose access to the fingerprint scanner.
Overall, Samsung has brought its new sense of style and polish to the Galaxy Note line and has given the Galaxy S6 edge a growth pill to woo multimedia addicts. But will they be enough to pull Samsung from its financial slump? Only time will tell. And that will, of course, depend on when the phablets launch and for how much. For the former, Samsung says August 21 is the date to watch for, with pre-orders starting this afternoon. For the latter, we'll have to wait to hear from our favorite carriers. As for color selection, it seems that the Galaxy Note 5 will be limited to black sapphire and white pearl in the US, while the Galaxy S6 edge+ gets black sapphire and gold platinum.