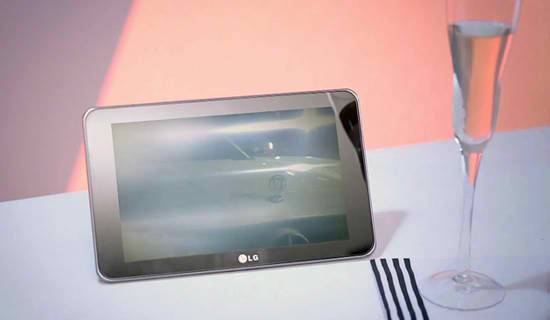 The LG G-Slate has been the tablet talk outside of its disappointing presence at this year's CES. Rumors have been circulating that it would feature a glasses-free 3D display, but these were quickly disputed and replaced with a rumor of the inclusion of a 3D camera. It looks as if we have finally gotten an image of the device and we can clearly see the pair of cameras.
The images come from a Korean pop video of all places and we get a few glimpses of the device. Other than the spotting, more details regarding its specs have leaked. Behind the 8.9-inch 1280×768 resolution display, the device will feature a 5MP camera, 1.3MP front-facing camera, 6400mAh battery, both HDMI and MicroUSB ports, as well as running on a Tegra 2 processor.
You can check out the tablet's brief appearance in the music video below (~0:52).
[youtube]x70aynhOkmc[/youtube]
We're sure excited about this device, the 8.9-inch screen is a little different but it may just be the perfect fit for some. What do you think? Are you excited about the 4G G-Slate, will you be buying one for 2011? Let us know!
[Via AndroidMixer]