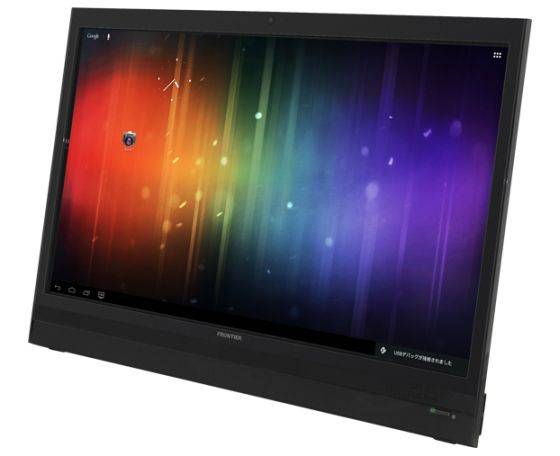 Who thinks that 10.1-inch Android tablets are just too small these days? Even Toshiba recently released a new 13-inch Android slate but today we have something even bigger, although we can hardly call this a tablet. The folks from Frontier have just launched their FT103 Android 4.0 Ice Cream Sandwich based tablet or "smart display" in China.
We can't really call this a tablet, since it's basically smartphone internals added to a huge 21.5-inch capacitive touch display, but I'm going to anyways. The Japanese company Frontier have released this today and for a pretty fair price. This 21.5-inch 1920 x 1200 tablet comes with Android 4.0 Ice Cream Sandwich, 8GB of internal storage, 1GB of RAM, and is powered by a Texas Instruments OMAP 4428 1.0 GHz processor.
One interesting note is along with multiple full sized USB ports, micro-USB, and micro-HDMI it also has a full size HDMI input. This is why some are calling it a smart display because you can use it as a regular or external PC monitor, then it doubles as your Android tablet should you choose. The device has your usual WiFi, Bluetooth, 1.2 megapixel front webcam, and even micro-SD support for expanded storage. There's no mention of Google Play Store support or any other details but it sure is interesting. This will be available later this month in Japan for around $440 USD.
Who wants one?
[via PClaunches]