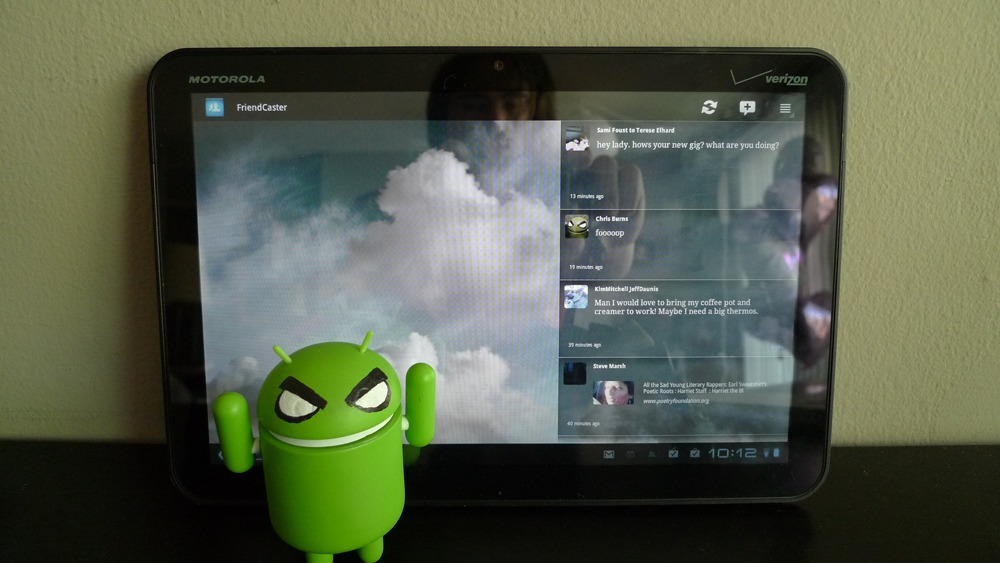 Welcome to FriendCaster Tab, the very first Facebook client specifically optimized for Android 3.0/3.1 Honeycomb. This application is a super simple one, so the following has a look at both this new version and the "Pro" version which was made with smaller handsets in mind. Which one should you choose? Probably both – you'll see what I mean when I move through the two in the video below. Does it make sense to simplify an app when you've got more space? We shall see.
What we're dealing with here in FriendCaster Tab is a free application that shows you an expandable list of your friends updates on Facebook. A list appears on the right side of your screen while any expanded bit of content opens on the left. If the content includes a link, you're moved out of the app to a separate app (whatever you've got set up for browsing the internet or YouTube, etc,) while the original window remains open if you'd like to return to it. Your only other functions are the ability to reload for newer updates, update your status, and change the background behind the whole setup.
[vms 51c9d670adcd37004f48]
My question is why in the world this would be released when the slightly less-well-adjusted but much more diverse FriendCaster Pro already exists? Is the tag "first Facebook App for Honeycomb" so very important that this app would be released with only a couple of functions available for the user? On the other hand, what we do have here thus far is quite nice looking. I would hope that this app would expand to include everything its little brother already has in this much nicer user interface for larger tablets.
Should you purchase FriendCaster Tab? Sure, it's free! Should you give them feedback saying you'd like more functions to be present? Yes, indeed!