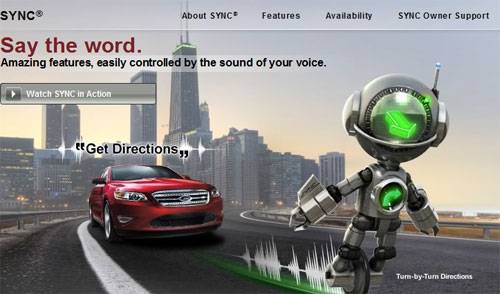 If you drive a 2011 Ford Fiesta and use an Android smartphone, you need to grab a new update for the Ford Sync system that is now available. The new update allows you to control apps on your Android smartphone using your voice.
To download the app you need to log in at Syncmyride and get the new update from the Update and customize section. If you have never updated Sync before there may be more than one update you need to add before you get the new AppLink feature. Once downloaded the install is made using a flash drive and the USB port in the car.
The first of the Sync-enabled apps for the new update include Pandora and Stitcher (landing in 2011). The apps need Android 1.5.3 or higher to operate with AppLink. Once the update is installed, the user can hit the voice button in the car, say "mobile applications" and then the name of the app to launch. In Pandora, for instance, the user can then use voice commands to play tracks like "Play station classic rock radio" and the driver can bookmark songs and rate them using their voice as well.