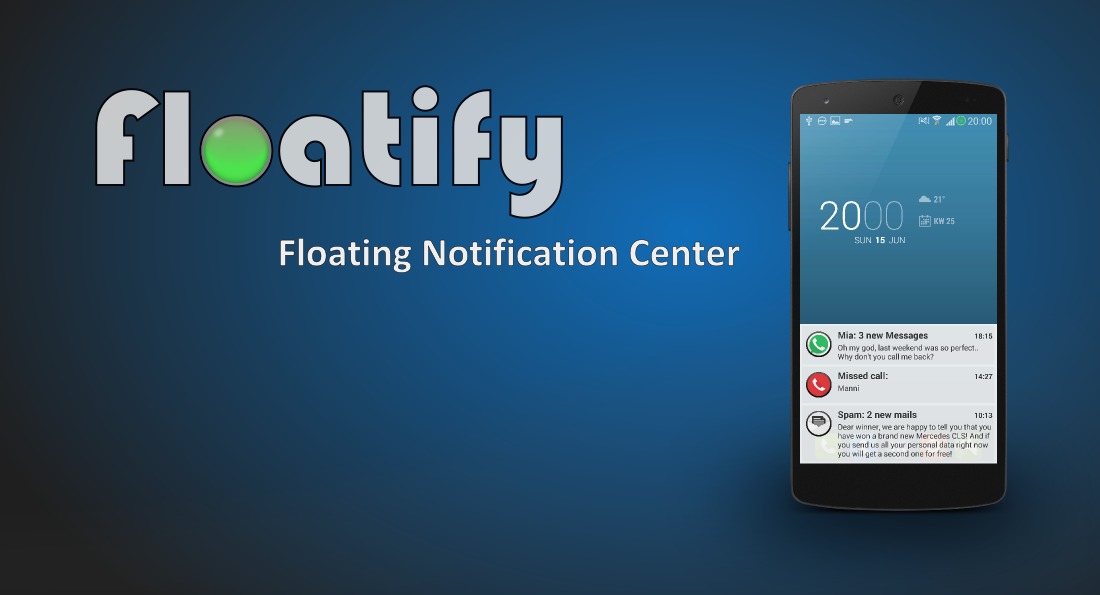 If you're one of those who can't wait until the actual Android L update is here already, there are some apps now that can give you a preview of what it will be like, well at least as far as notifications go. Floatify is one of the earlier apps that does that, and it promises to give your smartphones a smarter way of dealing with notifications. Released just last week, now it has been updated with even more new features.
When you install the app, instead of the normal way your Android phone shows you notifications, now you will receive them floating and stacked. You can customize their style, like where they'll appear, the size, color, animation, etc. You can also decide what to do with the notification, either expand it to full size, cancel it or even set a reminder when it is more convenient for you to decide on what to do. You can also add bulk actions, like dismiss all notifications, to your home screen, to make life easier.
You can also set it up so that the notifications will not show up when your phone is unlocked and will only float out once you unlock it. If you find notifications annoying when you're playing a game or watching a video, you can create a smart blacklist that will prevent them from popping up when you're in certain apps. They'll float on your screen the moment you leave the app. Floatify is also available in several languages, including Spanish, German, French, Italian and others.
Just a week after they launched the app, the update brings even more features like more direct actions, like Reply and Call Back. You don't even have to unlock your screen, just interact with the notification while you're on locked screen mode. You can now also favourite actions and link them to gestures. For example, if you want to expand the notification, you can do so by a double tap or a long press, depending on how you want to do it. Status Bar Gestures have also now been added so you can just swipe it down when you want to open or dismiss a notification pop-up.
Download Floatify for free from the Google Play Store
VIA: XDA Developers