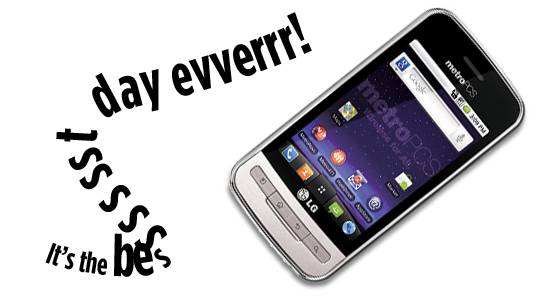 Today the people at MetroPCS announced their very first Android handset (so young, so in love!) as the LG Optimus M. This M model is similar to phones offered by Spring (who has the S) and T-Mobile (who has the T). This LG Optimus M will cost you $230 with an unbelievable(?!) $50 no-contract monthly plan offered by MetroPCS. This version M has a 3.2 megapixel camera, runs Android 2.2, and has a 3.2-inch touchscreen for all your tapping and swiping and whatnot. Available November 24th, just in time for… you know… purchasing it for yourself.
Really truly, they're offering this perfectly wonderful seeming phone on a $50 per month no annual contract plan. Isn't that too good to be true? Perhaps we'll all be able to have our Froyo and eat it too? Take a look at the full press release below:
MetroPCS Launches Its First No Contract Android Smartphone with the LG Optimus M™
More than 100,000 apps at your fingertips with nationwide unlimited talk, text and web for just $50 per month

DALLAS – (November 22, 2010) – Just in time for holiday shopping, MetroPCS Communications Inc. (NYSE: PCS) and LG Mobile Phones announced today the launch of LG Optimus M™, the first Android smartphone from MetroPCS. Available in MetroPCS stores and online starting November 24, LG Optimus M; is a sleek Android device with a vibrant 3.2 inch touchscreen that allows consumers to do more with quick access to today's expanding number of applications.

With the LG Optimus M, MetroPCS introduces consumers to the growing Android Market™ by helping them stay connected and entertained while on-the-go. With multi-app screens and the Android 2.2 operating system ("Froyo"), LG Optimus M provides instant access to more than 100,000 of the latest applications to fit anyone's lifestyle. For just $50 per month no annual contract plan, consumers also can take advantage of Metro USA℠ nationwide unlimited talk, text and web services.

"This holiday season, we're giving customers what they've wished for — an affordable Android smartphone with a full spectrum of applications and unlimited services to do more like never before," said Roger Linquist, chairman, president and CEO of MetroPCS. "LG Optimus M opens a path to the growing Android market and takes us one step closer to providing a full-service, postpaid experience while maintaining the affordability, flexibility and predictability of our Wireless for All℠ services."

"LG and MetroPCS have come together to offer consumers the first no annual contract Android smartphone at an exceptional value," said Tim O'Brien, vice president of consumer and trade marketing for LG Mobile Phones. "LG Optimus M is an easy-to-use handset with the capabilities of the latest Android technology and features to enhance the consumers' experience."
LG Optimus M will be available from MetroPCS for $229 with a $50 monthly service plan. Key features include:

* Games, ringtones and wallpapers, easily accessible through the @metro App Store™
* 100,000+ applications in the Android Market™ to do, enjoy and share nearly 60 percent of Android Market apps are free
* The latest Android 2.2 operating system to access Google mobile
* Text, e-mail, IM, blogs and streaming video to express yourself whenever, wherever
* A first-class device with superior, high-end champagne finish
* Brilliant 3.2" tempered touchscreen with virtual QWERTY keyboard, Swype embedded
* 3.2 MP camera for sharing pics on social media networks
* Easy Wi-Fi® connectivity – for incredibly simple and swift connections to Wi-Fi networks
* Multi-app screens to organize your content and access your stuff quickly and easily

To learn more about Metro USA nationwide service and Wireless For All plans and devices, please visit www.metropcs.com.

About MetroPCS Communications, Inc.
Dallas-based MetroPCS Communications, Inc. (NYSE: PCS) is a provider of unlimited wireless communications service for a flat-rate with no annual contract. MetroPCS is the fifth largest facilities-based wireless carrier in the United States based on number of subscribers served. With Metro USASM, MetroPCS customers can use their services in areas throughout the United States covering a population of over 280 million people. As of September 30, 2010, MetroPCS had approximately 7.9 million subscribers. For more information please visit www.metropcs.com.

MetroPCS related brands, product names, company names, trademarks, service marks, images, symbols, copyrighted material, and other intellectual property are the exclusive properties of MetroPCS Wireless, Inc. and its subsidiaries, parent companies, and affiliates. Copyright ©2010 MetroPCS Wireless, Inc.

About LG Electronics, Inc.
LG Electronics, Inc. (KSE: 066570.KS) is a global leader and technology innovator in consumer electronics, mobile communications and home appliances, employing more than 84,000 people working in 115 operations including 84 subsidiaries around the world. With 2009 global sales of USD43.4 billion, LG is comprised of five business units – Home Entertainment, Mobile Communications, Home Appliance, Air Conditioning and Business Solutions. LG is the world's leading producer of flat panel TVs, audio and video products, mobile handsets, air conditioners and washing machines. LG has signed a long-term agreement to become both a Global Partner and a Technology Partner of Formula One™. As part of this top-level association, LG acquires exclusive designations and marketing rights as the official consumer electronics, mobile phone and data processor of this global sporting event. For more information, please visit www.lgusa.com.

About LG Electronics Mobile Communications Company
The LG Electronics Mobile Communications Company is a leading global mobile communications and information company. With its cutting-edge technology and innovative design capabilities, LG creates handsets that provide an optimized mobile experience to customers around the world. LG is pursuing convergence technology and mobile computing products, while continuing its leadership role in mobile communication with stylish designs and smart technology. For more information, please visit www.lgmobilephones.com.
[Via PhoneScoop]