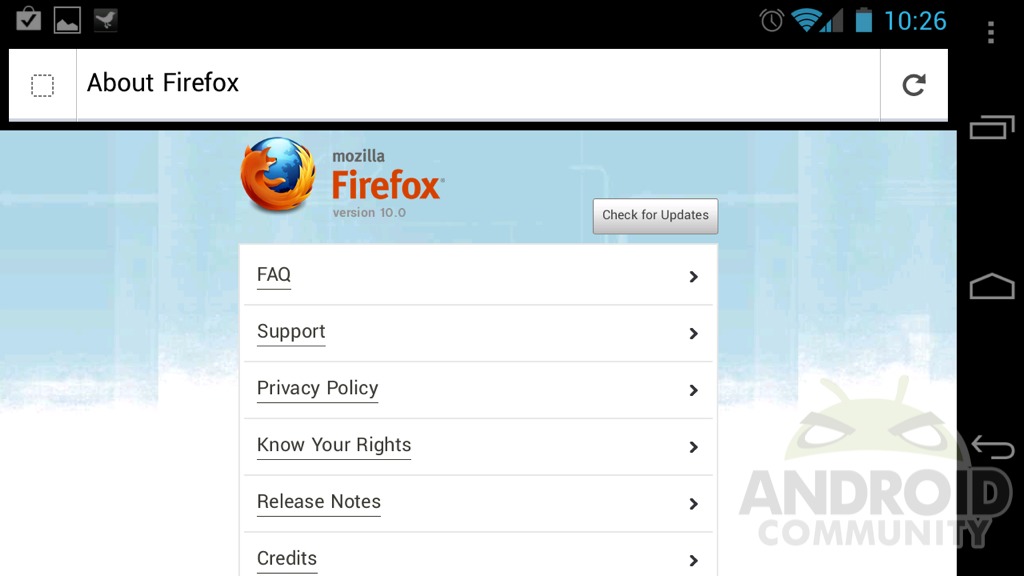 For all those users of the popular Firefox browser for Android we have good news today. Firefox 10 has just landed in the market and the update is available now thanks to Mozilla. Along with tons of improvements to overall stability and performance we have a faster and easier set up and sync, but Adobe's Flash Player is still missing.
I've been watching Firefox for Android since about version 6 and while they are making huge improvements I still don't see myself ever using it. The stock browser is excellent, not to mention the Android 4.0 ICS browser is awesome. I don't even use a 3rd party browser these days. However, with Firefox 10 page scrolling and zoom seems to be steadily improved and is actually more fluid than stock — but that is about all I'm enjoying.
I swear I remember release plans and even release notes saying Flash would be here with FF10 but it still seems to be missing, although it was added to a beta last year. The latest update still requires a missing plug-in as shown below and we are stuck with ugly grey boxes instead of videos in Firefox. Everything isn't all bad and they've added a few important changes. Anti-Aliasing for WebGL is now implemented and probably has a lot to do with that extremely smooth scrolling, not to mention accelerated layers in OpenGL ES and faster firefox-sync.
I did still have a random crash even though I only used FF for around 15 minutes this afternoon — so that was a bit disappointing. For fans or those that must have all the plug-ins and add-ons head to the Android Market via the link below and get it today. More details on the change-log can be found here.