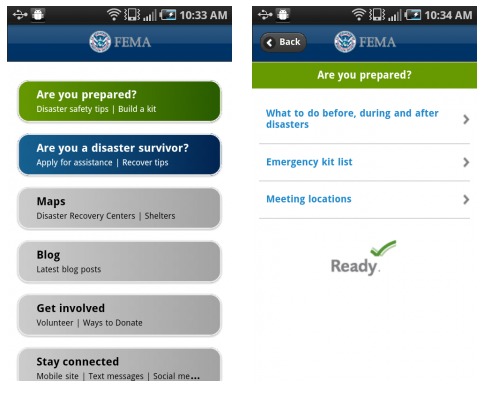 Just in time for Hurricane Irene, FEMA has released their Android App with all sorts of emergency tips and help guides and more. This is just in time as this sad hurricane Irene appears to be headed right for the East Coast and will most likely cause a few problems. You can read more at FEMA.gov and the Android app is available in the Android Market right now, get it by clicking here.
The new FEMA app is full of useful tips, checklists, meeting places, contact numbers and more. It will even offer the latest news for before, during and after a disaster. while most likely everyone on the East Coast is already hurrying to figure out a plan this could sure help with everything. Go down checklists to make sure you have things you need. Spare batteries, chargers for cell phones, all sorts of stuff. I'm just thinking mobile since after all we are all about Android.
The app will help with more than just hurricanes, same applies for things like the recent earthquake, floods and more. This wont help anyone if Verizon delays the Bionic again, but that sure would be a disaster.
T-Mobile is also prepping for the Hurricane and you can read all about how prepared they are, as well as see tips they are providing at the T-Mobile Blog. Here are a few tips thanks to T-Mobile
– Use text messaging to communicate instead of voice calls. Text messaging has a greater success rate in getting through the network during high-usage periods.
– Keep your calls short in duration.
– Utilize Wi-Fi calling if your device has the feature. This feature takes advantage of your in-home data connection to place calls in case the cellular network is congested or down. (If home has power)
– Make sure your phone is fully charged prior to the storm. Consider obtaining a vehicle charger in the event of power loss.
A few of these may be obvious to some, but not for others. Here are a few tips from us as well.
– Charge your phones, charge back-up batteries and make sure you have a car charger
– Turn off phone during the storm, keep it off so you'll have full power when things clear
– Bring spare batteries for cell phones, cars, any anything else you'll need.
– Download one of the many different Flashlight Apps for Android
– Text to communicate as they have a better chance of getting through, just as T-Mobile stated above
We could go on for a while regarding tips and tricks, but for now stay safe and once again feel free to read over the FEMA.gov website and get the official FEMA App for Android by clicking here.