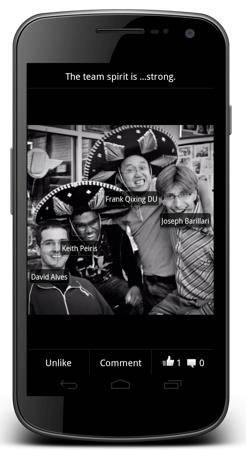 Today Facebook will be pushing a much needed update for their Android application. It is currently not available yet but should hit the Android Market sometime today according to the official Facebook Blog. They are calling it a faster Facebook for Android and it has tons of new features, improvements to the UI, faster performance, and that all important support for ICS (since the menu button has been missing for Nexi users). Check out these renders on the Galaxy Nexus and the full details below.
Apparently this update is all about speed, something that has been needing some attention for some time in the world of Android and Facebook. The UI has some awesome changes and the screenshots above only show us a small glance. A huge part of Facebook is photos and that part of the application has received a huge overhaul too. Photos and albums are said to be around two times faster than their current app. With photo sharing, comment viewing, and caption editing all seeing major improvements.
Messages and notifications have now been moved to the top of the display. Respond to friends and more all without leaving the current page you are on. Having notifications on the top as well as the menu button up there as well should make things easy, simple, visible, and extremely fast for users. A lot of these changes are similar to the desktop version and it's nice to finally see Facebook making some huge improvements for Android. It is not available yet but should be pushed to the market later tonight for download. I'll be hanging out at Google+ personally.
[via Facebook Blog]