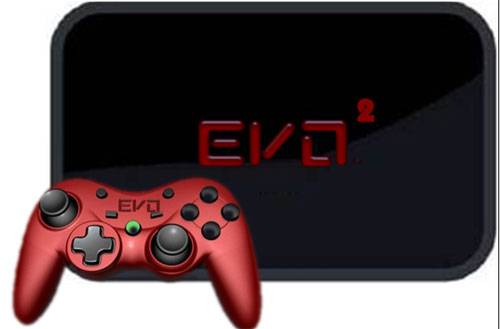 If you are a big fan of Android gaming and you want to get some of those games onto your TV without having to hook your smartphone or tablet up to your HDTV Envizions has a very cool new product for you that can be pre-ordered right now. The gaming console is called the EVO 2 and it runs the Android operating system inside. The game console will include an EVO TV remote, EVO game controller, and a HDMI cable all at a price of $250.
The console uses a 1.2GHz Samsung processor inside and has 512MB of DDR2 RAM. The EVO 2 runs a modified version of Android 2.2 for the OS and the console is very compact measuring in at 170mm L x 111mm W x 30 mm T. The device is claimed to be the first Android gaming console that offers users a real time gaming playlist and social friends connections. There will be chances for gamers on the console to earn points to purchase premium Android games for free.
The console will use game cloud storage and will use the Envizions Qquip SMS blogging reward service. The company plans to add other features to the gaming console as well with motion 3D sensors capability coming towards the end of Q4 2011. The console will ship this fall. Envizions says that developers will be able to start testing software via download from its site in two weeks. The console will be updated periodically after the system launches. I guess that means new versions of Android will come to the console.