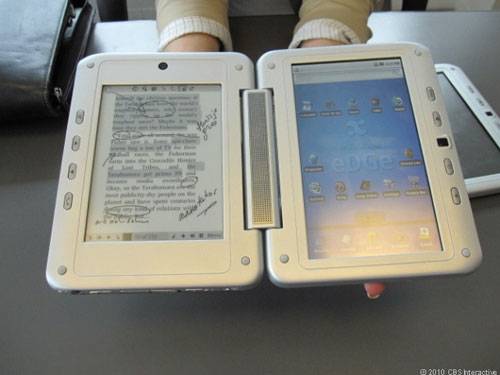 You may recall earlier this year the original Entourage Edge dual screen tablet surfaced. One of the things that some users didn't like about the device was the huge size that made it hard to carry and use for some. A new more compact version of that dual screen device has now surfaced called the Entourage Pocket Edge.
The new version has smaller screens with a 6-inch e-ink Wacom tablet on the left and a 7-inch resistive LCD on the right. The device has Bluetooth, WiFi, and USB sync as features. A microSD card slot allows for storage expansion as well.
The OS of the device is android 1.6 and the OS has been optimized for the hardware. This version is not aimed at educational use according to the maker due to the smaller screens and issues with PDF and ePub readability. The Pocket Edge sells for $399.