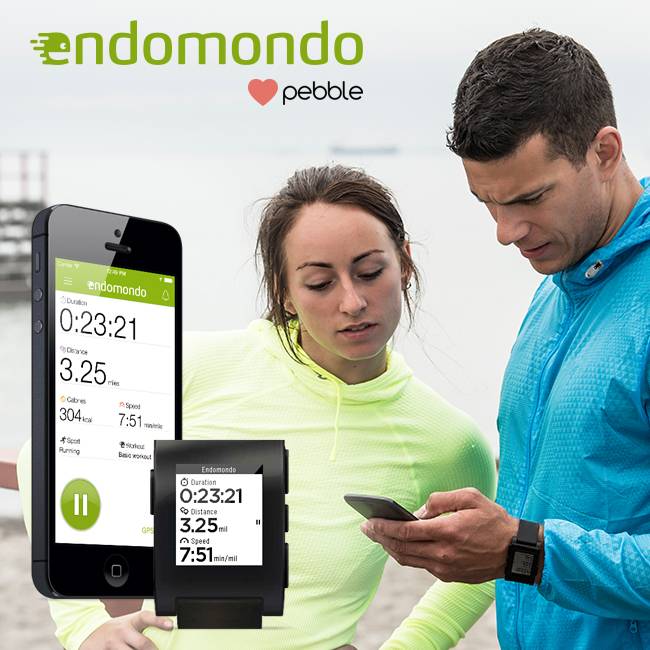 The folks at Endomondo have recently announced support for the Pebble smartwatch. But while that sounds like good news for Pebble wearing Endomondo users — there is a catch for those who happen to be Android users. The Pebble support within Endomondo will initially be available only for iOS users.
The updated Endomondo app with Pebble support is currently available from the iOS App Store and it will work with the iPhone 4S and all iPhone 5 models. As far as Android, Mette Lykke, Endomondo's CEO mentioned how the "Android app will also support Pebble later this year." Given the recent Endomondo updates on Android this is a bit disappointing, but they are far from the first company to release first for the iPhone.
We have yet to see any specifics on what will be available in the Android release, however the iPhone release has been detailed. Endomondo users will be able to start, pause and stop a workout. Users will also be able to display up to three data metrics — with options for distance traveled, heart rate and workout duration. Endomondo also has it set so you can have the Pebble vibrate for each mile completed.
While the CEO did mention the Android support was coming later this year — there was also a bit that left us hopeful for an Android Wear version. This involves a bit of speculation, however Lykke touched on how this "is part of Endomondo's journey towards offering users a convenient and connected experience across popular wearable devices."
SOURCE: Endomondo