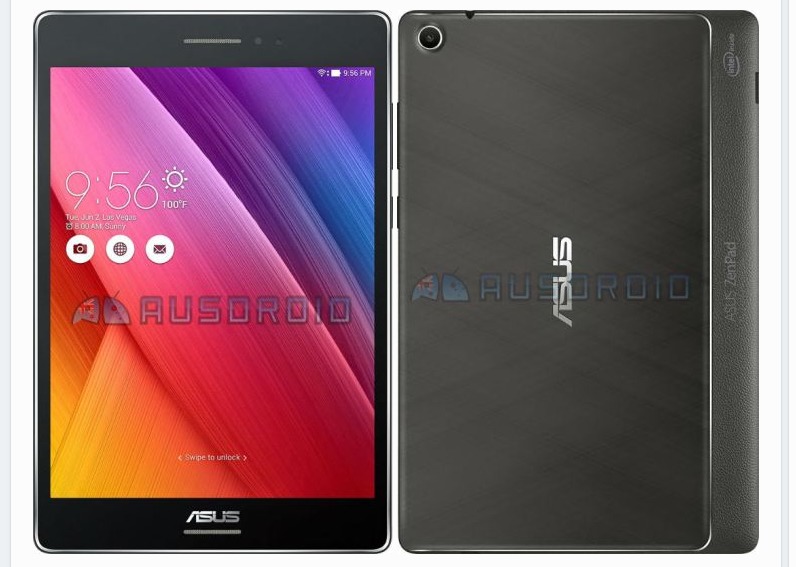 The Computex event is still a week away, but one of the expected new product to be launched is a new range of ASUS ZenPad tablets, and this time it will be powered by Intel. Some leaked press renders of the new devices show that indeed it has a 4:3 aspect ratio screen, following in the footsteps that other brands like Apple, Samsung, and Acer have been doing. The images also show us some new things which we can look forward to when it's officially announced next week.
Aside from the 4:3 aspect ratio, the renders also show that the new tablet has largeish bezels, and this is something that may please you or may make it difficult to handle the ZenPad on its own. There seems to be two models, a 7″ one with a 1024×600 resolution and an 8″ model with a higher resolution of 2048×1536. They will also have various storage models and based on the image, there will be a slot on the right edge for a microSD card, we assume. There are also some rumors that there might be some models that will have cellular capabilities as well.
It looks like the tablet will also be sporting front-facing speakers, which should make watching videos a better experience. The back of the ZenPad looks like it's made up of a soft touch material with a leather or leather-like strip at the edge. Now as to what this "pleather" will be for, other than an aesthetic addition, is something we'll find out soon enough.
There are no rumored pricing or availability details yet for the new ASUS ZenPad line. But we don't have to wait long, hopefully, as these will probably be announced when it launches next week at Computex in Taiwan.
VIA: Ausdroid