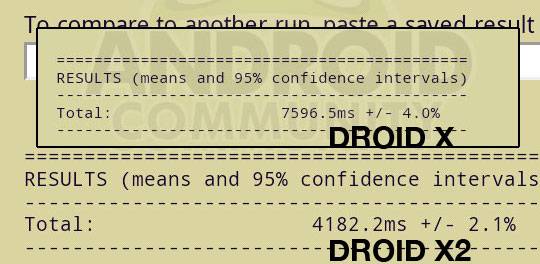 The war is on! It's time for the qHD battle to begin, and it's begun this morning with no less than a HTC Sensation taking on the DROID X2, and wouldn't you know it, we've got both. Let me introduce you to the newest member of the DROID side – DROID X2! This is a Motorola device that appears at first to be ever so slightly different from the DROID X it replaces – will it be too much for those who love new specs to bear? And what about other phone comparisons? Would you like a couple of pics of the DROID X2 next to the G2x? Sure!
The dimensions on this mother are exactly the same as the first DROID X at 5.02 x 2.58 x 0.39 inches. Next you've got to notice the weight, right? Not especially – they appear to be basically exactly the same there too. What about the display? Oh here we go, a new item! This newest version of the DROID X is a 4.3-inch 960 x 540 qHD display, rather than the 854 x 480 resolution screen in the older version. Of course this new version has a whole extra core as well: NVIDIA's Tegra 2 dual-core revvs this engine up.
Inside you'll also find Android 2.2 Froyo, an 8-megapixel camera on the back with the ability to grab 1080p video, Wifi b/g/n and CDMA radio. You'll be using this device on Verizon's network, but only on 3G – no LTE for you! Have a peek at a SunSpider Javascript benchmark here for an additional piece of improvement candy (lower is better):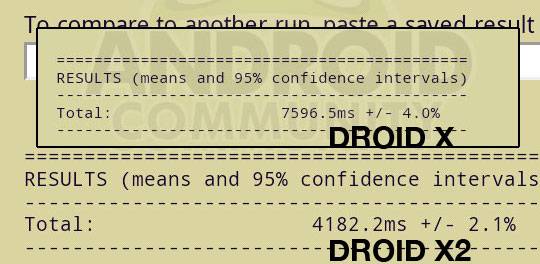 SunSpider Java Benchmark in Stock Browsers
Next, in Quadrant Advanced: Droid X2: total = 2743 (CPU 7241 / IO 2846) / Droid X: total=1353 (CPU 1266 / IO 3044) IO actually dropped on Droid X2!
Finally in SmartBench 2011: Droid X2: 2775/2423 / Droid X: 844/1499 vs. Galaxy S II (powered by Samsung 1.2Ghz dual-core): 3830/2249
Then prepare yourself for the greatest unboxing and hands-on video you've probably ever seen in your life, courtesy of the best camera and most stolen tripod in history. Steven Spielberg, you thief!
[VMS 880d39e5daec35375e99]
Unboxing and Hands-On
Then take a peek at this gallery of pics below. Included are several shots from our good friends at SlashGear (you'll notice the difference by the bright white heaven setup that Vince has going on) comparing the DROID X to the DROID X2. Finally get ready for the full review because before you know it it'll be comin at ya!
BONUS NOTE most importantly (aside from the dual-core improvement of course) the display difference between the X and X2. Looks like a thumbs up!
[device id=180]